Alright all of you feline lovers, your time has come. The dogs had their time to shine. I'm well aware that trying to get a cat to allow you to put a costume on it is like trying to get a rubber band around Jell-O, but if you have patience and are willing to get hissed at or clawed at, then perhaps this Halloween you will dress your cat up.
Everyone, if you dare, here are the 9 Halloween Costumes that 123Print wants to see you put your cats in this Halloween. Good luck.
A Penguin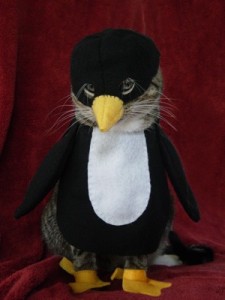 Just get the mask to stay on long enough to take a picture, and you can consider this costume a full success.
Puss in Boots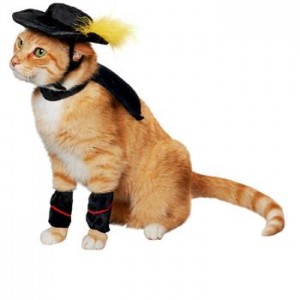 I'm 99% convinced that this cat is a robot, because I cannot imagine how in the world they got it to sit still to strap a hat to its head. The cape might be doable though. Someone try it out and let me know, please.
Batman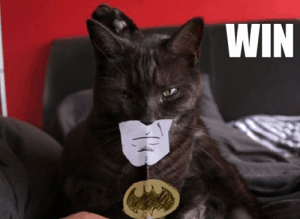 This cat costume is probably the easiest to make happen this Halloween. Well, at least if you have a black cat. All you need is some paper, a black crayon and a cat that will glare at the camera. Should be pretty easy!
A Frog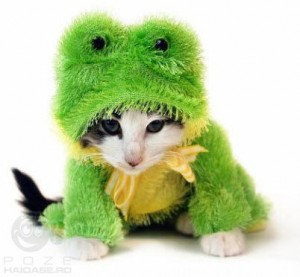 Even though the cat looks like it is mentally planning someone's untimely demise for dressing it up as an amphibian, I cannot stop awwing over how freakin' adorable this is. Even the blatant warnings in the cat's eyes aren't enough to make me stop.
Sushi Cat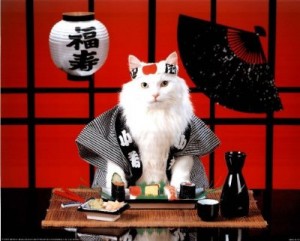 Bonus points are awarded to anyone who can teach their cat to use chopsticks.
Hello Kitty
Not feeling very creative? Dress your cat up as a famous cat.
A Shark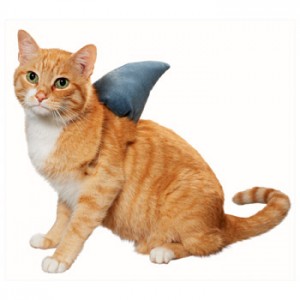 While not exactly original or exciting, it's probably the easiest costume to get your cat to agree to.  Nominate a family member or friend to follow the cat around all Halloween night with the Jaws theme playing to spice things up some.
Wizard Cat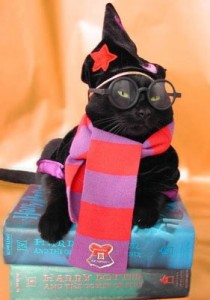 Now that the Harry Potter franchise has come to an end, allow your cat to express its inner wizard. Don't be fooled by the look on this cat's face… he's thrilled to have found out he's a wizard.
Cowboy Cat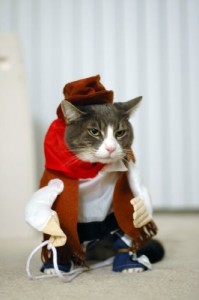 Ride 'em cowboy! The costume definitely is not making the cat happy, which actually adds to the costume as a whole. Doesn't the cat look like he's about to lasso his enemy and teach him a lesson?
Happy Meowoween!
Sources
http://www.petco.com/N_5311/Halloween.aspx
http://cute-pets.net/category/cat-hairstyles
http://nowthatsnifty.blogspot.com/2009/06/cats-in-costume.html
http://cute-n-tiny.com/cute-animals/cats-in-halloween-costumes/
http://posteroftheday.blogspot.com/2009_10_18_archive.html