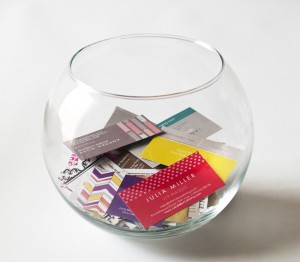 A friend once told me that a great reason to have a business card is so you can enter it in "Drop your business card in this box for the chance to win free stuff" contests. While half of you will agree, the other half will say businesses only hold those contests so they can pull your contact information. Hopefully, more full-bellied people result from these contests than annoyed-with-spam people. Either way, the usefulness of business cards has not been lost in these techie times!
The idea of "digital" business cards presents some interesting possibilities. For example, of course you carry your business cards on you for trade shows and other industry events, but what about random coffee-house encounters and other networking opportunities? Digital business cards can be readily available on many mobile devices (i.e. your smart phone), and are useful in those types of situations. There is a myriad of apps out there that allow you to make and share your digital business card, including:
• CardMunch by LinkedIn, which allows users to integrate their digital business card with their LinkedIn profile and share it.
• SnapDat, which allows you to create several different business cards such as one with personal information, one with business information and one with freelance information.
• Bump, which allows you to share data by physically "bumping" your smart phone to another user's device.
There are also apps that can scan a business card you've obtained and store the information in your smart phone. Some popular ones are CamCard, ScanBiz and WorldCard.
But now … imagine the following scenario: You are walking down the street and all of a sudden, you run into Warren Buffett, arguably one of the greatest investors of all time! You two start talking, he asks you about yourself, you tell him about your blossoming business, and he is so impressed that he asks you for your business card. SO you reach into your wallet, pull out your "Strike A Deal" business card, and hand it to Warren. You watch Warren's face as he reacts to the strong, smooth feeling of the glossy finish and admires the Caslon 224 Book font. Then you watch as he scribbles down his information on the back of your card and hands it back to you. With a quick "Talk with you soon," you watch as Warren Buffet, the Oracle of Omaha, continues on his way down the street.
Now, imagine the other scenario where you hastily search through your phone looking for your digital business card app, while hesitantly asking Warren if he could download the app so you can exchange information. Warren gives you a questionable look and tells you he'll … be right back. The picture this scenerio paints is not as pretty.
While cell phones and other mobile computing devices have embraced the concept of a "digital" business card, there are still many advantages to having paper business cards. For one thing, it looks and sounds way cooler (thwipp!) whipping out a business card than turning on a cell phone. But also, having a business card with high-quality paper and a professional look, such as 123Print's "Linen Luxe" business card, portrays a sense of quality that a digital business card can't convey.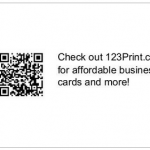 Still want to incorporate a hint of techie into your printed business cards without going completely digital? Consider uploading a QR code into a custom business design in place of a picture. QR codes are bar codes that can be scanned with any smart device via an app, and brings you to a specific web page. Creating a QR code is easy with an online QR code generator such as Kaywa.
There is definitely still a future for business cards. Instead of pitting traditional, paper business cards up against digital business cards, perhaps the better idea would be to see how they could work together.
How do you see the future of traditional business cards? Let us know by leaving a comment below!