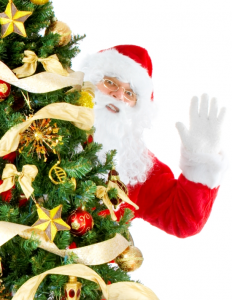 OK, so it's only the second week in September and we're writing a blog about holiday parties? Yep. It may seem early, but how much would you LOVE it if this was the year that you were totally prepared for the holidays? If yours was the party that everyone else's party was compared to? If you had as much fun at your own party as your guests this year? It can happen — 2013 is your year!
Make a List and Check it Twice
Since it is early, start by thinking this party through. Make some lists and then start whittling them down until you are left with the perfect options.
• Possible Party Themes List
• Favorite Holiday Party Invitations List (create an account and login to 123Print.com to save your favorite designs to review later)
• Party Games List
• Party Favor Ideas
• Guest List
• To-Do List
• Shopping List
• RSVP List
• iPod Playlist
Serve Up Scrumptious Seasonal Snacks
According to the Punchbowl Trends blog, only 12% of people plan ahead, buying their party snacks two to three weeks in advance. Many start by researching snack recipes online in the following spots:
67% recipe websites — Think food.com, yumly.com and smittenkitchen.com.
37% social media — Pinterest is an obvious recipe favorite.
14% blogs — Consider saveur.com's best food blog winners like, joythebaker.com, theboysclub.net or notwithoutsalt.com.
13% brand websites — For example foodnetwork.com, marthastewart.com/cook or shape.com/healthy-eating.
Pay the Piping Piper
As you're making your plans, how much should you spend on your holiday party? Again, punchbowl.com trends has some insights. They say the older you are, the more you're likely to spend on your Christmas/holiday parties. Where 18-34 year olds spend $310 on average, the 55+ crowd spends more than twice that at $780. And because you're thinking about this ahead of schedule, you can start putting aside funds now so your wallet doesn't have to take an extra hit in December when you're trying to buy gifts, too.
What was the best holiday party you ever threw or attended? Let us know on our 123Print Facebook page, tweet about it or leave a comment below.