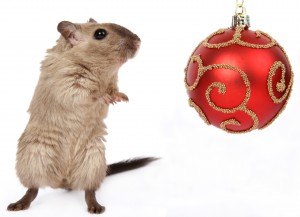 'Twas just weeks before the holidays and all through the house, all the creatures were stressing. Yes, even the mouse. It does get hectic this time of year, no doubt about it. That's why we thought we'd share four helpful tips to reduce holiday stress.
Settle Down for a Long Winter's Nap — Regardless of how rushed or busy you are, you need to make time to get enough sleep. Eight hours of sleep each night is an average. If you normally operate on seven, or you require nine, that's fine. But know yourself, and make sure that even during the holidays, you continue to get the right amount of sleep for you. When we're short on sleep, our concentration suffers and our energy levels decline — and there's nothing merry about that!
Be Lively and Quick — In other words, get some exercise. It will increase the production of endorphins which are your brain's feel-good neurotransmitters. Plus, when you're exercising, it gives your brain something else to focus on (besides the list of things you need to get done) which can create energy and optimism. If you're not into going to the gym, try going for a walk each day. It's a great way to see how all the neighbors are decorating! And while you're at it, why not bring your next-door besties a small token of your holiday thankfulness?
Visions of Sugar-Plums — It's OK to dream about sugar-plums, but Tara Geise, a registered dietitian and American Dietetic Association spokesperson recommends skipping sugary snacks when stressed. "Sugar causes your blood sugar to spike and then fall quickly, which can make your energy level dip," Geise told Better Homes and Gardens. "Then you're low energy and stressed and that's not a good picture." The BHG article went on to list 10 superfoods for stress relief: asparagus, beef, milk, cottage chees and fruit, almonds, blueberries, tuna, cornflakes or crispy rice cereal. Try working these foods into your holiday menus and snacking.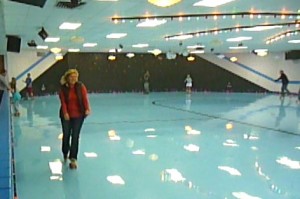 Make Sure Your Eyes Twinkle and Dimples are Merry — The best stress buster of all is to have fun. Schedule time to hang out with your friends and favorite family members during the holidays. Plan to do activities you really enjoy and can do together. Last year, my husband's family decided to go roller skating and we had a blast. (Even though I caused my husband, a great skater, to do a backwards summersalt on the floor as I banged up my knee. But even that caused a lot of laughter!) Safer activities might include going to a movie, visiting a museum, Christmas caroling or just going out for a holiday-flavored hot drink.
One way 123Print is trying to help you avoid stress is by offering a 25% discount on holiday cards along with free 2nd-day air shipping. (Hurry! This is a limited time offer.) That way you can save time and money as you get down to the holiday crunch. What do you do to prevent holiday stress? Please, tweet us, or tell us below, on our Google+ page or our 123Print Facebook wall.