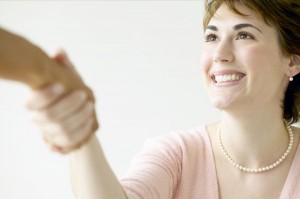 We've all been there at some point or another. That awkward feeling of relief, excitement, caution and uncertainty all rolled into one big messy ball known as the first day on a new job. On one hand you're relieved because your seemingly endless days of scouring job postings, going on interviews, networking, sucking up to potential new employers and swapping business cards until your hands are raw are over. You're excited because this is a new adventure in your life; hopefully one of growth in some way or another. But then again, this is a new adventure, an unknown adventure, something to approach with caution and a sprinkling of uncertainty.
Lucky for you employers love to do things to try to ease your transition into your new role and place within their corporate culture. These formalities will often include events designed to get you introduced to your new colleagues such as having someone parade you around the office and extending invitations to join co-workers, and maybe even the boss, for lunch. While certainly well-intentioned and hospitable; anyone who has ever gone through it knows it can actually add to the awkwardness if handled incorrectly. As a public service to you – and because we've had a few new faces show up here at 123Print (all of whom were stellar in not being awkward, and fit in superbly, by the way) in the past month or so – we present to you 6 DOs and DON'Ts for Surviving the First Day at a New Job – or at least relieving the awkwardness:
6. When meeting your new colleagues on the parade around the office…
DO make good eye contact, offer up a solidly professional handshake and say something like "it's a pleasure to meet you and I'm looking forward to working with you." Keep it short, sweet and professional.
DON'T avoid eye contact, get too touchy-feely or do a fist bump (unless offered up to you first), or say anything that makes you come off as meek, a jerk, weird or creepy.
5. If you should actually end up engaging in conversation with your new colleagues…
DO let them have their say, take the opportunity to learn about them, what they do and the culture and say a little something about you without getting too deep.
DON'T try to dominate the conversation, dwell on what you did in your last job or regurgitate your resume. You got the job already there, Slick, you can back the BS down a notch.
4. When people ask you about yourself…
DO offer up some truthful, but brief, insight about yourself that will help them get to know you at a professional level.
DON'T spill your guts on your entire life story. You've got plenty of time to get to know one another, no need to get into your penchant for collecting all variations of every Hummel figurine ever made just yet – well – strike that – ever.
3. If you get the invite to lunch – especially if it's the boss
DO accept (duh – it's free grub) and order something that is both neat and easy to eat while talking and is about mid-priced on the menu.
DON'T order anything that you know you're going to end up wearing down the front of you, is going to instantaneously give you weapons-grade gas, or is the most expensive thing on the menu. This isn't about scoring free surf and turf on the man's dime.
2. When you are shown your office, desk, cube, crate in the broom closet or wherever you're going to sit…
DO quickly arrange it for convenience and efficiency, take note of the equipment and supplies that are there and if you feel there is anything else you'll need to do your job ask how to requisition it.
DON'T ask where you can grab a hand truck so you can bring the six boxes of crap that decorated your last workspace in from your car.
1. When the IT guy comes around to give you your computer log-in and show you how to access different things…
DO ask questions about any systems, hardware, software or procedures you are not familiar with and be friendly with the IT guy because being on the good side of IT guys tends to make good things happen!
DON'T immediately ask if the company can see what you're looking at online, if it blocks adult sites ,or if there's a policy on playing World of Warcraft.