From breakfast to dessert, appetizers to entrees, the holidays are a time for feasting. Instead of bringing the same dish year after year, try something new. Wow your office Christmas party or family event! These eight recipes are taking the internet by storm this year, offering innovative ways to dazzle everyone's taste buds during the season.
1. Cinnamon Roll Casserole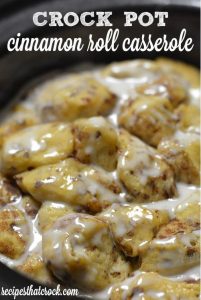 Looking for some ooey-gooey-goodness on Christmas morning? This Cinnamon Roll Casserole from Recipes that Crock will delight adults and kids alike.
Ingredients:
2 ½ oz. tubes of cinnamon rolls divided and cut into quarters
Icing packet
4 eggs
½ cup whipping cream
3 Tbsp. maple syrup
2 tsp. vanilla
1 tsp. cinnamon
¼ tsp. nutmeg
Directions:
Cooking spray your crockpot and cover the bottom with cinnamon roll quarters, but save enough to add an extra layer.
Whip up your eggs, cream, maple syrup, cinnamon, and nutmeg in a mixing bowl. Evenly pour your well-blended mixture into the crockpot, covering the rolls.
Create a second layer of cinnamon roll quarters with your remaining pieces and evenly add some icing (not all).
Put the cover on your crockpot and cook for 2 ½ to 3 hours on low (until rolls are set and sides are golden).
When the rolls are done, drizzle the rest of your icing on top.
Indulge and enjoy!
2. Eggnog Doughnut Muffins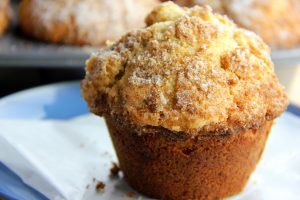 These eggnog doughnut muffins from kitchn are the perfect combination for the holidays!
Ingredients:
3 cups all-purpose flour
2 ½ tsp. baking powder
¼ tsp. baking soda
1 tsp. salt
1/8 tsp. freshly grated nutmeg
12 Tbsp. ( 1 ½ sticks) softened unsalted butter
½ cup sugar
2 large eggs
1 cup whole-fat eggnog
Icing (4 Tbsp. unsalted butter and 1 cup powdered sugar)
Directions:
While heating the oven to 350°F, place muffin papers in a 12-muffin tin.
Add your flour, baking soda, baking powder, salt, and nutmeg to a mixing bowl – whisk – and set aside.
Place butter in second mixing bowl and use an electric mixer on medium-high to beat until creamy, add sugar while continuing to mix, and then add your eggs one at a time, beating until you have a smooth batter.
Take a quarter of your flour mixture from the first bowl and add it to the second bowl, give it a quick stir, and then mix in 1/3rd of your eggnog. Smooth out the batter.
Alternate adding your flour mixture and eggnog until you have used all of it. The batter should be relatively thick when you finish mixing.
Add your batter to the muffin papers inside the tin. Place in the oven for 25 to 30 minutes (until the edges are lightly brown).
Melt 4 Tbsp. unsalted butter and brush or dip muffins – then cover in powdered sugar.
3. Keto Sausage Balls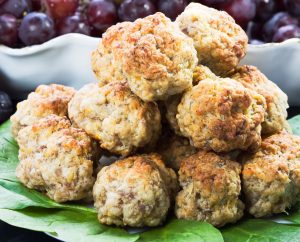 Great as an appetizer, this Keto Sausage Balls recipe from Ket Size Me is sure to become a favorite that you'll want to bring to your holiday get-together time and time again.
Ingredients:
1 lb. breakfast sausage
1 large egg
1 cup almond flour
8 oz. shredded cheddar cheese
2 large eggs
4 oz. cream cheese softened
2 Tbsp. melted butter
¼ tsp. salt
2 tsp. baking powder
Directions:
Preheat your oven to 350°F.
Combine all ingredients in a large bowl and mix well.
Make approximately 30 balls out of the mixture and place on a cookie sheet. Use a silicone baking mat, so sausage balls don't stick and burn.
Bake sausage balls for 20-25 minutes (until they are browned).
That's it!
4. Stuffed Bacon-Wrapped Dates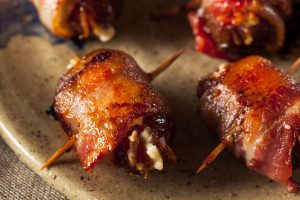 Speaking from personal experience, these cheese-stuffed bacon-wrapped dates are delicious! I like them with blue cheese, but feel free to substitute with your favorite. I'm told cheddar also goes nicely. Bring them to your office holiday party or family gathering this season. They are super easy to make, but oh-so-good, and are sure to be a hit!
Ingredients:
Directions:
Preheat your oven to 375°F.
Choose the number of these scrumptious morsels you would like to make.
Pit each date by cutting a small slit with a knife and removing them. You can use either a whole date or half date for each piece depending on your tastes.
Stuff each date with cheese (not too much or the cheese will leak out).
Cut raw bacon strips in half.
Fasten half strips of bacon around stuffed dates with toothpicks.
Place on a baking pan and cook for 20-25 minutes (until bacon is crispy and cheese is melted). Flip your pieces throughout the process to ensure all sides are cooked.
Enjoy!
5. Chipotle Pineapple Jerk Glazed Ham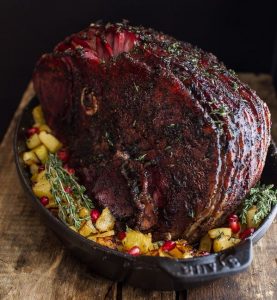 Spice up your next holiday party with this Chipotle Pineapple Jerk Glazed Ham from Tieghan Gerard at Half Baked Harvest.  It's a new take on an old favorite, and perfect for the colder weather. Take a look!
Ingredients:
9-11 lbs. pre-cooked ham
1 Tbsp. garlic powder
2-3 tsp. cayenne
2 tsp. onion powder
2 tsp. ground thyme
2 tsp. brown sugar
2 tsp. pepper
2 tsp. chipotle chili powder
1 tsp. smoked paprika
1 tsp. allspice
1/2 tsp. cinnamon
1/2 oz. chopped pineapple
Glaze:
1/2 cup brown sugar
1/2 cup maple syrup
1/4 cup bourbon or rum (optional)
1-2 chipotle chilies in adobo finely chopped
3/4 cup pineapple juice
Directions:
Remove your ham from the refrigerator still wrapped two hours before cooking.
Preheat your oven to 325°F.
Place your ham in a roasting pan.
Combine all your dry ingredients in a bowl to create your spice mixture and then rub on your ham. Cover your ham securely with foil and bake for 1 ½ hours.
In a medium saucepan, combine your maple syrup, brown sugar, bourbon or rum, pineapple juice, and chopped chipotle chilies. Heat at medium-high while stirring and bring to a boil. Once boiling, reduce your heat to low and simmer for 10-15 minutes, reduce to approximately half the mixture and take off the burner to cool.
Remove your ham from the oven after 1 ½ hours and increase the temperature to 400°F.
Brush your ham with the glaze from the saucepan (save some to be added later). Place your chopped pineapple in the bottom of the roasting pan around the ham.
Place the ham back in the oven and bake uncovered for approximately 25-30 minutes, until the glaze is caramelized.
Remove from the oven, let sit for 5 minutes, and serve with the remaining glaze.
6. Coffee-Rubbed Prime Rib Roast with Roasted Garlic Gorgonzola Butter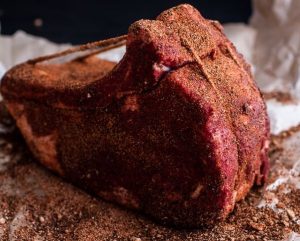 This is the second recipe by Tieghan Gerard from Half Baked Harvest. She is topping the charts once again this season with a super delicious-sounding Coffee-Rubbed Prime Rib Roast with Roasted Garlic Gorgonzola Butter. Yum! Impress your friends, family, and coworkers with this amazing holiday feast.
Ingredients:
1 prime rib roast (3-4 rib)
2 Tbsp. coffee grounds
4 Tbsp. brown sugar
2 tsp. smoked paprika
¾ tsp. chili powder
¾ tsp. ginger
¼ vanilla bean seeds, scraped
1 Tbsp. black pepper
1 ½ – 2 tsp. coarse salt
2-3 cups chopped root vegetables (whatever you like – potatoes, Brussels sprouts, carrots, or all of the above)
1 onion, quartered
2 heads garlic with the tips sliced off
Ingredients for butter:
6 Tbsp. unsalted butter, softened
4 oz. gorgonzola cheese, crumbled
1 tsp. Worcestershire sauce
Salt and pepper to taste
4-6 cloves roasted garlic from the two heads in ingredients above
Directions:
Mix coffee grounds, brown sugar, chili powder, smoked paprika, ginger, vanilla bean seeds, salt and black pepper in a bowl.
Coat the prime rib in your spices.
Add your chopped root vegetables, onion, and garlic to a roasting pan and place your roast on top.
You can refrigerate the roast, covered, overnight or all day. Alternatively, you can allow the roast to come to room temperature by leaving it out on the counter before placing it in the oven (about a half hour). If you put your roast in the fridge the previous night, take it out approximately three hours before you plan on cooking it.
Preheat your oven to 450°F.
Cook your roast for 30 minutes at 450°F and then reduce your temperature to 350°F while continuing to cook your meat until thermometer measures 115-120°F (rare), 125-130°F (medium rare), 135-140°F (medium), 145-150°F (medium well), and 155-160°F (well done). This should take approximately 1-2 more hours depending on the desired temp.
Once your roast has reached the desire temperature, let rest for 20 minutes.
Create your butter by combining the roasted garlic from the pan in a bowl with butter, gorgonzola cheese, Worcestershire sauce, salt and pepper to taste. (Mash up the garlic first and then mix in the rest of your ingredients).
Carve meat and serve with the butter.
Enjoy!
7. Spicy Sweet Potato Salad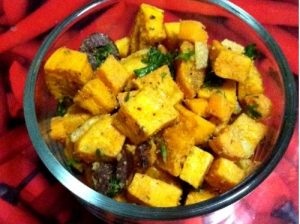 This Spicy Sweet Potato Salad from patheos utilizes contrasting flavors to really stand out for a great holiday recipe that people are sure to remember.
Ingredients:
2 cups peeled and diced sweet potatoes
2 Tbs. melted coconut oil
½ cup diced red onion
½ cup shredded carrots
½ cup diced celery
½ tsp. onion powder
¼ tsp. garlic powder
¼ tsp. dried dill
¼ tsp. smoked paprika
1 tsp. minced fresh parsley
1 tsp. minced fresh basil
2 tsp. minced fresh chives
10 black olives, halved
¼ cup chipotle mayonnaise
2 tsp. apple cider vinegar
Salt and pepper to taste
Directions:
Preheat your oven to 450°F.
Cover and mix your sweet potatoes with coconut oil, salt, and pepper.
Spread the ingredients above on a cookie sheet and roast in the oven for approximately 25-30 minutes (until potatoes are tender).
Mix your remaining ingredients in a bowl.
Remove your potatoes from the oven and cool completely.
Mix your potatoes with the remaining ingredients.
Add salt and pepper to taste.
Chill for approximately two hours before serving.
8. Sage and Cheddar Potato Gratin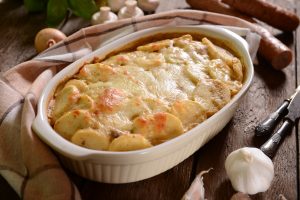 Creamy and delightful with the right amount of something different, this Sage and Cheddar Potato Gratin recipe from McCormick will make a great side dish for the holidays.
Ingredients:
2 tsp. sage
1 ½ tsp. salt
½ tsp. ground black pepper
3 lbs. peeled and thinly sliced Yukon Gold potatoes
1 large onion, thinly sliced
8 oz. shredded cheddar cheese( 2 cups)
1 cup heavy cream
1 cup chicken broth
Directions:
Preheat your oven to 400°F.
Combine sage, salt, and pepper in a small bowl.
Combine 1/3 of the potatoes and ½ of your onion on a lightly greased 13×9" baking dish.
Sprinkle 1 tsp. of your mixed spices and 1/3 of your cheese on your potatoes.
Continue creating layers of potatoes, onions, spices, and cheese until you have used all.
Whisk chicken broth and cream in a bowl until it is well-blended and pour over your potatoes, onions, spices, and cheese.
Bake for approximately one hour (until potatoes are golden and soft).
Cool for five minutes and serve.
Happy holidays!