Who remembers the 1960s label maker? That thing was COOL. You could turn the dial and pull on the handle — really hard — and it would emboss the letter right onto the label. You could write anything, and it would become an instant sticker. Right there in front of you. That was pretty impressive before ink jet printers became affordable.
OK, nostalgia aside, labels have come a long way. (Thank heavens.) If you're not currently a labeler, aka label-a-holic or label-ista, you are missing out on an easy way to get your home, office and even events more organized. These simple tips will not only save you time and energy, they also will make your life easier. It's the little things that count … and add up!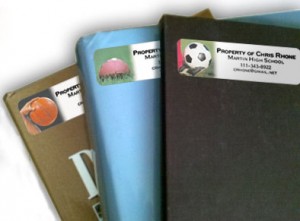 1. Address labels. These, in addition to mailing labels, save you major time paying bills and sending correspondence out of your home office. They also make you look organized (that's because you are!), and add personal style to your mail. Correspondence, however, isn't the only use for address labels! You can stick them on anything that you'd like to be returned to you if lost and found. For example, place one on the bottom of your laptop or inside your laptop case; inside your sunglasses case; on luggage tags; on your dog's doggie daycare bag and more. These also work for your kids—stick address labels on their school supplies (lunchbox, binders, etc.) so they'll easily be returned to their rightful owner if misplaced. Tip: Add clear tape on top of the address label to make sure it doesn't peel off.
2. Gift tag labels. Get your giving on with gift tag labels, which are easily applied en masse, whether you're doling out loads of birthday party favors, holiday gifts for teachers, or bridal shower thank yous. You can even come up with a generic one for gifts from your family and also one from your business that can be used year-round for various purposes. Voila! You have it together. Want to be creative? Pre-print a party-themed catch phrase and stick two gift tags together, back to back, overtop of a toothpick and you have an adorable cupcake topper! Or handwrite your guests' names on them and turn your cupcakes or Twinkies or whatever pokeable object you prefer into place card holders!
3. Everything labels. Buy a label maker (maybe one from this decade!). It will change your life. This handy little tool becomes a major player in keeping you organized at home and in the office. You'll always be able to find and access your things when you need them, and you'll never ask yourself (or your clueless hubby) "what's in here?" again. With a few quick punches, you can mark things like plastic food containers before putting them in the refrigerator or freezer (Tip: Don't forget to write the date it was cooked/frozen.); clothing bins before they go in the attic; file folders; recipe cards; laundry shelves; kids' cubbies; garage storage; work binders — the list goes on.
4. Drink labels. Ever been at a friend's house or holiday party and misplace your drink glass or plastic cup? We thought so. Save the environment or the party host (in this case, you) from doing more dishes by providing guests with blank gift tag labels and a magic marker to fill in their name. Just stick the gift tag label to the side of the cup or glass and no one will be stealing — by mistake, of course — someone else's vino.
How have you used your labels in creative ways lately? Post it on our 123Print Facebook page, tweet @123Print, or write a note below — we'd love to know!