Can you believe it's almost time to start thinking about the Holidays?! Even though it's only July, many families start to get the Holiday bug early as they want to get their family portraits done for their Holiday cards! Remember our popular "Shoot Your Own Christmas Card Portrait" series from 2011? Check them out for a more in-depth look at photography and set-up specifics. In the meantime, read on for some expert tips on how to capture the perfect photo for your 2014 Holiday Cards: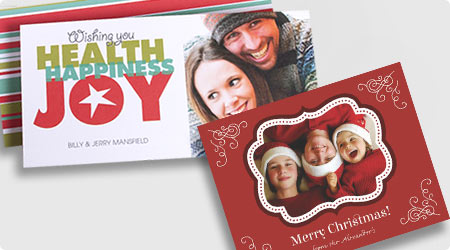 Even lighting for everyone. Lighting is so important — you don't want someone in the front throwing shadows or someone in the back looking dark. Tips for achieving this? Bounce your flash off the ceiling or wall or use a big light source like a large window. You may even want to consider taking your photo outdoors. If you do choose to take it outside, you'll still want to have the flash on to fill the shadows. When it comes to photography, remember a little flash goes a long way!
When it comes to arranging your family, don't make it too complicated. The easiest way to get everyone into place is to put the "big guys" in the back and "little ones" in the front. If you're incorporating your grandparents, stick them in the middle — this will not only look great, but will make them feel important 🙂
As far as clothing goes, try to be as uniform as possible. For example, make sure everyone wears white shirts with blue jeans, or have everyone where the same "tone." This will really make your relatives to look more like a "family."
When you're figuring out where to place your camera, try it at a higher angle. This will give you the best chance at capturing each member of your family equally. As an added bonus, having your camera up high will naturally make everyone tilt their chins up which is an automatic face lift — lifting your chin up is also a great way to appear 20 pounds lighter! (I don't know about you, but I can definitely get on board with that!) The most common ways to get your camera up higher is by using a chair or a ladder.
When it comes time to shoot, remember that, typically, one out of every six shots will be good per person. Multiply that by however many family members you have to give your photos the best chance of no blinkers! Of course, you can always review the photos as you take them, but that takes a good amount of time, and people will start to shift and get restless if you do that between each shot. Better to just take a bunch at once then go through them all together.
Plus, check out some bonus tips from our in-house Graphic Designer, Andy, who is also a professional photographer! You can check out some of his work at andysmetzer.com.
Watch the background. You don't want a lamp or plant to look like it's coming out of the top of the subject's head.
If outside, find a shady area so the light is even and they aren't squinting into the sun. A somewhat overcast day is good and or late in the day.
If photographing for a holiday card photo frame, make sure there is extra room around the subjects so they aren't cropped off or will fit the frame area. This could be tricky if the frame is an odd shape. Picking the card before taking the picture might be a good idea.
Remember, you and your family (and whoever you send your Holiday Cards to) will cherish these photos for a long time. (Or, as long as they hold out on your mantle). You want to make sure your Holiday card photo is worth remembering! What other tips do you have? When do you usually shoot your family portraits? Let us know below, or connect with us on Facebook, Twitter or Google+!