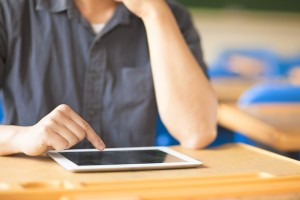 It goes without saying that students nowadays live in a fast-paced world and that is why some of them have this sense of entitlement that can be very detrimental to the way they feel, think and act towards their surroundings and the people surrounding them. Some of these students expect everything to be handed to them on a silver platter without breaking a sweat unlike the older generations before them who need to "earn their bread" and prove their worth with hard work and honest labor.
Teachers have reported an alarming and steady decline of students who actively participate in discussions, lectures and other scholastic endeavors. This gradual but consistent drop in academic excellence can severely affect the world in the long run because students are the future pillars and leaders of our society. Some students take the chance to study and learn for granted because they are distracted by the technological advancements surrounding their lives. Video games and movies have replaced books for entertainment and these young people prefer passing funny links, pictures and videos around with their friends instead of having intellectual and meaningful conversations with their peers.
But everything is not yet too late because the same social media outlets, devices and websites that are taking their time and focus away from their studies can actually help them with some of their educational activities especially research and data gathering. The Internet is a melting pot of useful information and excellent resources that can drastically help them with their assignments and schoolwork because everything they need is virtually at their fingertips.
Instead of wasting their time and brain cells goofing off with their friends, here are a couple of ideas on how students can use social media sites to interact with smart and intelligent people who can point them in the right direction and show them the way they should go.
1. Get Access to Valuable Data and Resources Easily
There are a lot of E-books out there as well as tons of academic resources that students can find and use to learn more about their different subjects in school. There are also a lot of educational websites that share instructional videos as they try to break down and explain complex ideas to people of all ages. PDF files of reviewers and key concepts of different subject matter can be found all over the place and they are really helpful in amplifying the learning process. Oh, and did I say that most of this stuff is free of charge and royalty fees?
2. Seek and Connect with Your Idols
Because of the power of social media and how it somewhat connects us all one way or another, students can now interact with their favorite authors, scientists and other proponents of knowledge and wisdom in any given field. They can ask questions, share their ideas and open up their minds and their hearts to the people they look up to in life. The interactions and positive feedback will surely encourage them to push harder and be all that they can be instead of giving halfhearted and uninterested efforts in everything they do in life.
3. Build an Academic Network Online
There are millions of people from all over the world who are hooked to multimedia online games because this is where they get a little breathing room and a little break from the concerns and problems of the real world. And most of these gamers are students who barely have enough time to deal with all their responsibilities as it is. With that amount of free time on their hands, students are better off building an academic network or forum where their friends and even students from all over the world can help each other with their scholastic concerns and questions with their subjects.
Nonetheless, students should still visit libraries and public archives as well as interact with other people like professors, scientists, doctors and what not in person so that they can gather as much useful, firsthand information as they can. They should strike the perfect balance between using technology and social media for academic purposes on the fly when under time pressure and using old school techniques like getting down and dirty with their research to really squeeze out the good stuff they can use.
If they follow these friendly reminders, students will be able to enhance their learning experience in and out of the four walls of the classroom and curb the temptation to use technology and social media for nonsensical activities that don't do much to improve their standing in school and knowledge of the world around them.
About the Author: Hi! I am Madison Fields, a sophomore from Stanford University taking up Creative Writing. When I am not busy working as a volunteer for the local animal shelter, I work as a researcher for an essay writing service to earn extra money. I love camping in the woods with my older brothers because it takes me away from the stress and stifling confines of the big cities.