You don't need me to tell you that the holidays are rapidly approaching. The malls are decorated and surely you've seen at least one Black Friday or Christmas commercial reminding you that time is running out to get your shopping done. Personally, the holidays don't start for me until I see the famous Hershey's Kisses Christmas commercial. Growing up, that was always the key that soon I'd be gorging myself on turkey and after that Santa would be visiting.
Speaking of Santa, I always wondered if parents invited him to sneak into their house every night – or if it was just understood. I mean, Santa is a really busy man, right? Billions of kids all around the world expect him to show up one night a year, but was the man even invited? Did our parents ever send him some sort of invitation, encouraging him to show up between the hours of 1AM and 3AM on Christmas Eve? Was this how he planned a way to hit every single house in only one night? Was this how my parents made sure I was dead asleep, because Santa had RSVP'd to arrive between a certain time slot? Or was Santa above invitation etiquette? Did he prefer the "pop-in," which some people love and some people hate? I like to believe Santa took etiquette quite seriously. He was never a "no-show," right? Although, a new holiday movie "Arthur Christmas," presents the "What if" scenario of Santa forgetting a house. I'm 99% sure that movie took cues from Santa's buddy the Tooth Fairy who sometimes wouldn't even remember to show up on the night a tooth was placed under my pillow, and would then suddenly show up two days later. Talk about inconsiderate!
Talking to my fellow 123Print blogger, Rich, we realized that not many people do the "pop-in" anymore. It seemed that there used to be a time during the holidays, where friends and family would just drop by unannounced and spend quality time with you. Now it seems that without a specific invite to a Thanksgiving dinner or a holiday party, people are too afraid to just drop by unannounced. I don't understand this, though I'm completely guilty of it. The holidays (regardless of what you celebrate or believe in) are a time for friends, family and fellowship. They're a time to relax, slow down a little bit and just enjoy the company of someone. This holiday season, I challenge you to push aside the feelings of you may be intruding or catching someone at a bad time, and just drop-in somewhere for a visit. You may make someone's day a little brighter by doing so!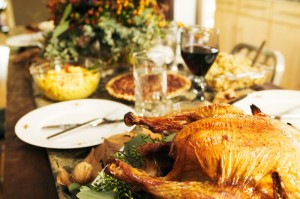 Now, that's not to say you should drop in on someone's Thanksgiving dinner or Christmas party unless specifically invited. Remember, even if Santa isn't getting an invitation from the parents… he still has the common courtesy to not show-up randomly at events like that. So with that in mind, let's take a crash course in invitation etiquette to avoid any type of faux pas this holiday season.
1.) If you receive an invitation to some type of gathering or event (holiday season or not), please remember to RSVP. Pro Tip: RSVP is French for "Répondez, s'il vous plaît" and translates to "please reply." Emily Post, an American author famous for writing all about etiquette, advises you reply within a day or two of receiving an invitation. I can't stress this enough. Reply promptly! If you're being invited to a Thanksgiving dinner or a holiday party, please remember to RSVP so the host/hostess can have a proper headcount and plan accordingly.
2.) If possible, try not to leave your RSVP on an answering machine or voicemail. Technology can be fickle my friend. Try to speak directly to the person.
3.) Think about all of the planning that goes into a festive dinner, a party or any other type of social gathering. Food, decorations, seating, parking… the list seems never-ending. With that in mind, if you originally RSVP with a "no," and want to change it to a "yes," please remember to check with the host/hostess. You don't want to mess up their arrangements. On the flip side, changing a "yes" to a "no," is really only acceptable if there's an illness, injury, death in the family or some business conflict. It's totally unacceptable to cancel because something "better" came along.
The holidays are stressful enough as it is. Don't add on to the hosts' stress by not RSVPing. Even Santa remembers to RSVP! Every Christmas Eve he shows up at some little boy or girl's house, leaves presents and doesn't overstay his welcome. He keeps his word. It's that friend the Tooth Fairy you have to watch out for. Anyone have her email address? I want to direct her to this post.