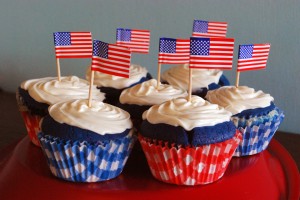 Are you throwing a 4th of July party this summer? Party planning can be fun for sure, but it can also take a lot of work to get it all organized. Your all-American soiree planning can be more turnkey by keeping it simple, but with thoughtful touches. We have pulled together ideas for the essentials and the beyond that you need for patriotic-party success. Now let your patriotic flag fly!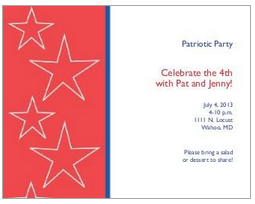 Red, white and blue invitations. Light up their mailboxes with this patriotic star-themed Three Star Salute Note Card Invitations – Flat. Your true colors shine bright as you invite guests to your super-fun patriotic party with an invitation, rather than the same-old Evite email.
Stately grub. What's more American than grilling out? Head to Costco for a massive quantity of hamburger meat, buns, hot dogs and corn on the cob to feed your hungry guests. For healthy twists, choose higher-quality meats, wheat buns and sides full of veggies and beans. You can even grill vegetables, like zucchini, bell peppers and onions, beside your burgers, for flavorful toppers. Yum! Extra tip: Prepare for sticky fingers by placing hand wipes on each table.
American-made tunes. Whether you're playing traditional CDs or connecting your computer with your sound system to play your selection on Spotify, cultivate a U.S. born and bred artist selection. Some of our favorites span several different genres (which will make everyone from your mom to your pre-teen happy), and include Willie Nelson, Bruce Springsteen, Pink, Phillip Phillips, Fun and Beyoncé among others.
Flag-friendly table. If you're having a huge blowout 4th of July party, paper napkins are certainly the cost-efficient way to go (in red, white and/or blue, naturally). However, a fun and slightly more sophisticated twist is to use bandanas as napkins. Plus, they're reusable — throw them in the wash after your bash and save them for the next year. For a tablecloth, consider brown kraft paper, which comes in a large roll, and is easily switched out after inevitable spills and dribbles. Idea: Place crayons in a cup on each table for the kiddos to decorate the tables while they munch. Round out your patriotic tabletop décor with colorful cutlery, plates and glasses, and for an extra-sweet touch, use native flowers or wildflowers in pails as centerpieces.
Cooling stations. July is usually hot. Really hot. Provide ways for your guests to cool off. For starters, add metal buckets filled with ice and cold drinks at the end of every table while you dine. You can also feature a separate table with pitchers of ice water with lemon or cucumber slices in it, cold and wet towels in a mini cooler for guests to freshen their faces and either small water-bottle misters or fans as party favors. For dessert, serve up ice-cold watermelon slices and cherry and blue raspberry snow cones.
Talk about fireworks! Some states allow the lighting of 4th of July fireworks; others do not. There's always a chance that something should go awry if you're not a professional fire starter, so please proceed with caution if you decide to light them up in your backyard. Otherwise, another fun idea is to feature fireworks on your big, flat-screen TV and also hang balloons with tons of glitter and confetti in them, and then let the kids (or adults) pop them with toothpicks. They'll rain on your parade in a good, sparkly way.
Game on. Pick an American pastime or two for guests to have fun with during the day. Maybe it's ladder golf or a game of softball. Alternatively, offer a stack of board games, from chess to Monopoly, to rev up some healthy competition and amusement.
Have ideas or questions about planning an upcoming event? Leave us a comment on our 123Print Facebook page, tweet us @123Print or write a note below.