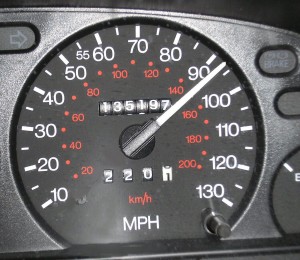 What goes through your mind when you visit a website for the first time and have to sit and wait for the page to load? There's no question that faster websites make for a better user experience. Is your website's load speed frustrating your site visitors?
According to a Gomez web speed survey, speed matters. Nearly one-third (32%) of consumers taking the Gomez survey said they would start abandoning slow sites after just 1 to 5 seconds! Over a third (37%) said it makes them less likely to return to a site — and worse yet, 27% said it made them more likely to visit a competitor's site. Oh-oh. So what can you do?
Here are 3 tips to speed up your page load speed without being a developer or "code monkey."
1. Break long pages into multiple shorter pages.
Having a lot of image files on one page can cause slow load times. If you can break that one page into several pages, you can improve the time it takes to load each page. Consider putting your different product or service categories on their own page so you don't fill up one page with images of all your products and services.
2. Reduce the size of your images files.
Size matters. Large image files take forever to load. If you crop the photo to only show the important parts of the image, you can reduce the file size without lowering its quality. If there's nothing you can trim off of the picture itself, then look at the resolution. Setting the images at 72dpi is a common web practice. If the resolution on any of your images is higher than that, reduce it to 72dpi to make the file smaller and the speed faster.
3. Evaluate and eliminate.
Sometimes, when we create a web page, it's like our baby. We're impressed with what we produced! But if you're having issues with page load times, it's time to take an unbiased look at your "baby." Make sure you're only saying and showing what absolutely has to be said and shown. If you were getting fancy with frames on your images or included more images than were necessary, use your editor's eye and make the decision to remove them for the sake of your page load speed.
Looking for other ideas to make your website load faster? Find more page speed insights on Google's developers' pages. There are many things that can be done with the code to clean it up and improve your load times. Incorporate website maintenance, like checking page load speeds, to keep your company's website in top shape to grow profits.
Have you already optimized your small business website for page load speed? What ideas can you share to help your fellow business people? Please, let us know below.