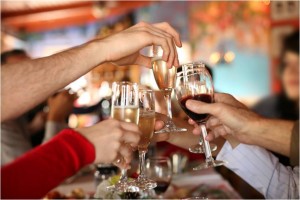 It's that time of year. Chestnuts roasting on an open fire, Jack Frost nipping at your nose, and … Holiday Networking! With social calendars quickly filling up this month, now is a great time to take advantage of the potential networking opportunities at your upcoming events. Read on for 8 tips to make some great connections this holiday season.
Every Event is a Networking Event
This time of year, what's there to be down about? You're constantly surrounded by good family, good friends, and most importantly … good food. Will all that tryptophan (aka essence of turkey) coursing through people's veins, most people are incredibly receptive to striking up a conversation.
Make a Goal
One proven way to make some connections is to go in with a goal in mind. For example, at your neighbor's holiday party, make a goal to talk to five people whom you didn't know before. Not only will this help you network, you'll feel good for hitting a personal goal you set for yourself.
Bring Business Cards and a Pen
Suppose you have a great conversation with Jane Doe at that neighbor's holiday party. She starts talking about finding a local place to get flowers for her daughter's wedding, and wouldn't you know it, you run a flower shop! Not only that, but one of your employees is Jane's cousin! Now is the perfect time to whip out your business card and give it to Jane. Then, take the opportunity to make your business even more memorable by pulling a pen out of your pocket and jotting down "Flowers for your daughter's wedding — where Cousin Lisa works!" This personal touch goes a long way in making your business card stick out from the pack.
Don't Hover By Your Friends
Don't forget your mission — make new connections with people who could help out your business. Break free from the comfort of your BFF to snag some valuable face-to-face time with prospects.
Follow Up
Don't make empty promises — this is the number one way to be easily forgotten. Even if the follow up has nothing to do with your business (i.e. the name of a great landscaper you can recommend) it is important to follow through with your promises. This reflects responsibility on both you and your business.
Don't Bore People
When asked what you do for work, don't bore people with an epic spiel of your past, current and upcoming projects. Instead, give them a short, elevator speech about what you do and how you help people. More importantly, ask them questions about themselves and their line of work to draw out any opportunities for collaboration.
Be Unforgettable
With so many people to go through, it's easy to forget new names and faces. Make sure you're remembered as being attentive, interesting and personable.
Don't Forget to ask for Their Contact Info
Just as important as it is to give out your business card, it is equally important to ask for someone else's. That way, if someone has expressed interest in your products or services,  you can reach out to them instead of waiting for them to reach out to you.
Do you have any other tips for networking during the holiday season?
Let us know in the comments, or connect with us on Facebook, Twitter or Google+.