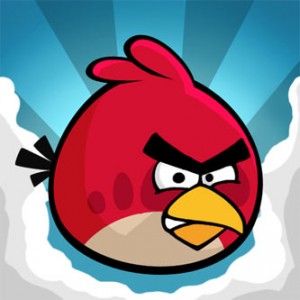 Before I even start, let me first start by saying I do not condone playing Angry Birds while at work. I'm sure if I tried to play it here at 123Print, I'd face disciplinary action. I do not advise you to set aside those reports and spreadsheets you're supposed to have done this week, or putting off contacting everyone you met at that conference last week whose business cards are still sitting in a neat pile, so you can work on getting three stars in each level of the newest level of Angry Birds Seasons – Mooncake Festival. You have a job, DO IT. However, I'm also human and have fallen victim to those soul sucking green pigs. I can't let them taunt me. I must fling feathered friends at them and reclaim the eggs that are rightfully mine.
Wow. Excuse me. I got sucked in to just the mere thought of playing one of the most addicting games ever released. For those of you reading that are not addicted to Angry Birds, or have somehow been holding out on seeing what the fuss is all about – I commend you. I also envy how many hours of your life you have spent outdoors, in comparison to the hours of my life I have lost as I desperately try to have the white bird drop the egg in just the right spot to take out two pigs at once, plus the majority of the wood and glass structure.
This game, that actually requires some skill and planning, has become a cultural phenomenon and has started to bleed into actual physical creations. People all over Etsy are creating, designing and selling Angry Birds paraphernalia in their online shops. Those that aren't selling their creative masterpieces, I urge you to start. Millions of people are spending countless hours on beating this game, that you're bound to create something that would appeal to someone, somewhere.
Take a look at these 11 Unique Angry Birds Creations, as they fly right at you:
Angry Birds Earrings by Coraline Accessories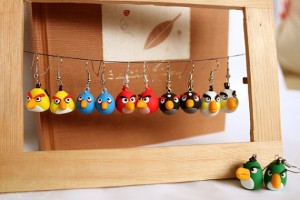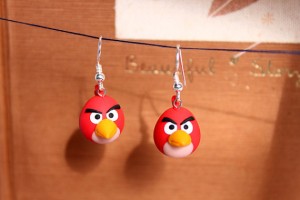 Sets of Angry Birds earrings are available in all of your favorite colorful birds. All that's missing are the pigs. Be sure to dress up your club outfit with these bad boys. Watch the men flock to you. Get it? FLOCK?
Angry Birds Mailbox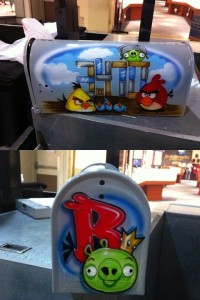 A Facebook Angry Birds fan, Josh, created an Angry Birds mailbox. Imagine how much time he wasted doing this, when he should've been doing house hold chores like laundry or 'ya know… getting the mail.
Angry Birds Hats by warmestwishes2u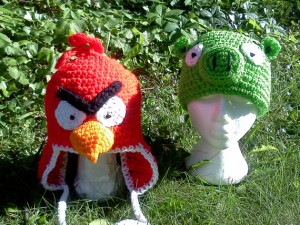 Birds typically fly south for the winter, but this creative and talented fan has crotched everyone's favorite angry red bird and taunting green pig into hats perfect for the cold weather. Plus, who wouldn't want to choose to have a bird on their head instead of having the unwelcomed fecal matter that may fall from the sky?
Angry Birds Coffee Cozies by dawsonvisualanties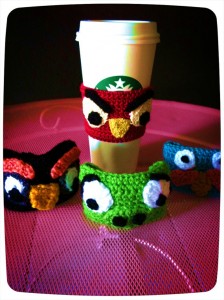 This one may be slightly confusing. "Coffee cozies" are the equivalent of "beer koozy," just… they're crocheted birds and pigs for your expensive Starbucks beverages. Someone take this idea and turn the yellow bird into a beer koozy. I would buy that in a heartbeat.
Angry Birds Car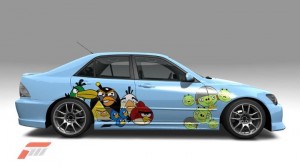 Facebook fan Chris Mallory shared this on the Angry Birds fan page. There's actually a few Angry Birds cars out there – everything from a yellow Chevy to a red Mini-Cooper. I should hope that as you accelerate in any of the Angry Birds cars, you hear the high-pitched "WEEEEE" that the red bird squeals when launched into the air. Either that or when you break suddenly you hear the sound the pigs make when they get hit.
 Crocheted Angry Birds by HandMadePandas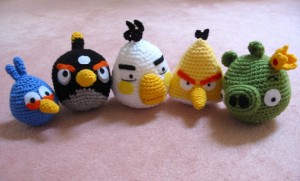 Crocheting birds and pigs seems to be the fan favorite, huh? While these are definitely adorable, I'm not quite sure what the creator intends for these to be used for. Juggling? Dog toy? Elaborate hacky sack? What I've learned so far is that if there are characters in any game, movie, or book… people will by crocheted representations of the characters. I hope someone crochets a Klingon. (NOTE: I've been unsuccessful in my search for a crocheted Klingon, but I was able to find someone who has dubbed themselves The Klingon Knitter. Close, but not quite.
Angry Birds Cake & Cupcakes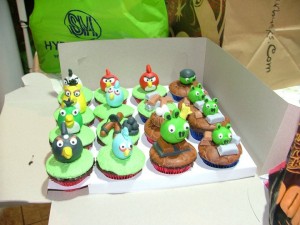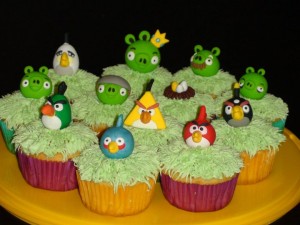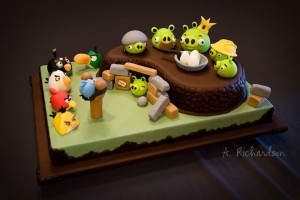 Right up there with crocheting birds and pigs, you'll find a variety of different types of Angry Birds cupcakes and cakes. Some cakes get more elaborate than others, but the idea is always the same. Humans show the birds and pigs who are really boss and chomp their heads right off their bodies. Yum!
Angry Birds Canvas Painting by loopiebird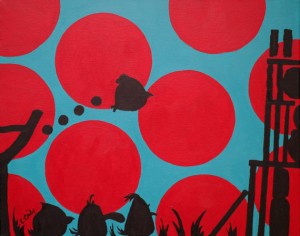 If you'd rather how your love for Rovio's Angry Birds in a more subtle way then open up your wallets and dish out $200 for this canvas painting. An Angry Birds fan will recognize the silhouettes immediately, but a non-fan may just find it be a clever piece of art. Get out those watercolors and colored pencils, guys. There's money to be made in art.
Angry Birds Ornithological Documentation by Zero-Lives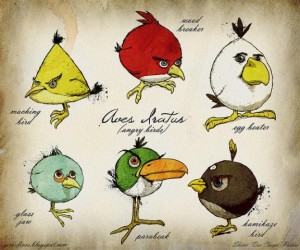 Now, this you may not be able to re-create on your own (in a unique fashion) and then turn around and sell something brand new, but draw inspiration from it. It's art. Again, there's money to be made in art.
Angry Birds Cell Phone Cases by LitteLoveHM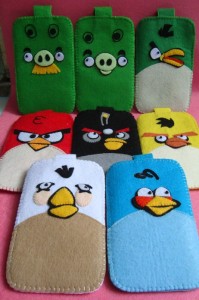 If you're an Angry Birds fan, you've probably seen the Angry Birds cell phone covers, at one point or another. This particular Etsy seller took the popular iPhone4 case, and gave it a felt makeover to protect the entire phone. Imagine pulling out your cell phone from the red bird at Starbucks, and then casually slipping your coffee cozy on your piping hot coffee. Just imagine…
And finally, a mere suggestion on things to create and rake in a lot of money…
Angry Birds Bra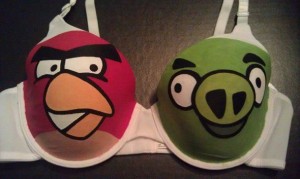 Remember that saying "sex sells?" Well, imagine how much you'd be selling if you combined a bra with a video game that is a cultural phenomenon. I'm going to end this with allowing you to imagine a world where sex and Angry Birds collide. Oh, the possibilities.