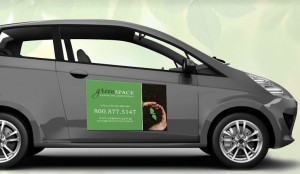 Did you know your small business can get noticed on the road or even in your own driveway with a custom car magnet? Check out six ways to turn your car into a traffic stopper!
Establish your business. Unless your business' name is self-explanatory, your magnets should clearly explain what products/services you offer. If you choose to include an image, make sure that it's relevant to your business.
Choose a selling point. Use a powerful marketing message that explains why consumers need your product/service and what makes you unique. Getting to know who your target audience is will help you establish how you say your message. For example, you won't want to speak in "chat acronyms" if your target demographic is 55-64.
Include the important stuff. Make sure your contact info stands out — you want to make it easy for people to reach you. But don't overwhelm them with too many ways to contact you. Pick one or two preferred methods such as a phone number and website.
Make it easy to read. Remember that people will be taking in your information most likely while driving, so you'll want your letters large and your message concise. Make sure the words on your sign are in an easy-to-read font and stand out from the background. Using a border on your sign can help focus the viewer's attention on your message.

Choose the right colors. Did you know using light colored letters on a dark colored background will increase your magnet's readability? Some of the more popular combinations are yellow on black, white on navy, white on black and white on dark green.  Consider making your most important piece of information (perhaps your phone number or website) a different color so that it stands out.
Clean and maintain. Clean your magnets regularly to keep them looking great! This will allow you to use them over and over again. Be careful not to bend or crease the corners if you have to move it. If possible, try to avoid applying your magnet to horizontal surfaces that face the sun.
Have you ever used car magnets as part of your marketing strategy? Did you get a lot of leads from using them? Let us know in the comments below, or connect with us on Facebook, Twitter or Google+.