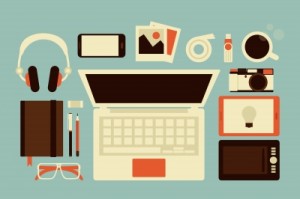 In a typical work week, office workers spend about 5 hours and 41 minutes at their desks, according to the The British Psychological Society. While the health repercussions of that finding is a whole other blog-post topic, we're zeroing in on the fact that we spend a ton of time at our desks — it comes out to around 120 hours per month. Yowzers!
In light of how much time you're sitting pretty, it's important for your mental wellbeing to like it there, right? And a big part of that is outfitting your area with cute and practical desk accessories that organize your days and make you smile. Here are a few to get you started:
Shine on. We're a big fan of brightening up your office in little ways to make every day of work just that much more enjoyable, which is why we love a good custom mug, like this Abstract of Sun mug. Really, does it get more cheerful? It'll be your daily go-to sipper.
See right through it. Don't let your print-marketing materials junk up your desk. Instead, get yourself this acrylic business card holder, which keeps your business cards neat and organized. The see-through holder also allows you to show off cards in a way that might just catch the eye of your customer sitting on the opposite side of the desk from you. Form and function — great!
Smart cards. While we're on the subject of keeping things tidy, let's chat more about your business cards. If you're like many people, your cards are floating around in a drawer or getting bent out of shape in a wallet or purse. Consider a professional and stylish metallic business card holder, which keeps cards clean and corners in good shape. It can travel in your pocket or purse for easy access when you need to hand one out to a customer.
Get write on it. Sometimes, it really is the simple things — a memo pad with character and personalization can spice up every scribble fest (aka note taking). And while you're at it, find yourself a custom pen pal, too, with good-looking personalized pens that make writing smooth and easy.
Once you have the basics all set, feel free to branch out even further with your cute and practical desk accessories to add more personality (while keeping it professional, of course). A University of Exeter study found that people who were allowed to design their work area were up to 32-percent more productive — without any increase in errors. So, go for it. Find a unique holder for your pens and pencils; add a colorful desk lamp; put up an inspiration board over your desk and more.
What cute and practical desk accessories did you choose for your office? Leave us a comment below, on our 123Print Facebook page, our Google Plus page or tweet us @123Print.