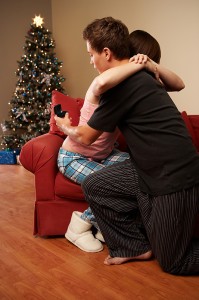 Tomorrow is the first day of December, and you know what that means! Engagements galore!
Did you know December is the most popular month to get engaged? December accounts for about one in every five proposals. A lot of times grooms choose Christmas Eve to pop the question, and of course others wait until after Santa arrives and ask on Christmas Day. My friends and I argue back and forth about whether or not it's cliché and predictable to propose to your "special someone" on a major holiday like Christmas, and the verdict is still out on it. Personally, I think both days are wonderful choices for bringing your family and friends in on a totally joyful and exciting time in both of your lives.
It makes sense that December is the most popular time to pop the big question, right? People want to give the "ultimate" gift during the holidays. The one that makes people gasp and then cry out of sheer joy.
Of course then comes the stress of planning a wedding, picking out the right wedding invitations, deciding on the right caterer, the right dress, engagement photos for your save the dates – the list just never seems to end. If you're one of the lucky people to find a ring on your finger this holiday season, take some time to enjoy it, and wow your friends with some random trivia and facts about engagements and weddings in general, courtesy of The Wedding Wizards and Arizona Weddings:
The average engagement lasts 14 months
99% of couples take a honeymoon
An average of 44,230 weddings take place in the US every single weekend
The average diamond engagement ring costs $2,000
Saturday is the most popular day for proposals
The average amount spent on a wedding dress is $800
The most popular month to get married is June
Be on the lookout ladies and gents! You never know what kind of surprise your "special someone" has in store for you this holiday season. Will you be one of 44,230 weddings that take place in 2012?!