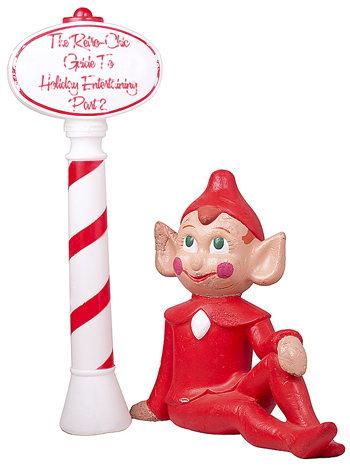 Hello out there in blog land.  Your old pals from the 123Print Blog are back with the exciting conclusion of The Retro-Chic Guide to Holiday Entertaining where we'll finish up with our tips for throwing the mid-1960s style Christmas party that will have the whole town talking!  Stay tuned and don't touch that dial!
In our last episode we covered invitations, attire and food for your retro-chic celebration.  In tonight's installment we'll cover the all-important topics of beverages, music and décor – the crowning touches for your throwback holiday get-together.
Beverages
People in the mid-'60s drank alcohol; sometimes a lot and in situations where we would not do so today.  We're not in any way endorsing drinking alcohol with the gusto and carelessness they did back then; in fact we're not endorsing drinking alcohol at all.  However if you and your guests are of the proper age, you follow modern conventions of responsibility with regard to consumption and the law, and you are going to have alcoholic beverages at your shindig keep the selections appropriate for the period.  Drinks of the era were simple and classic.  Many of the liquors and mixers of today's neon-colored fad drinks didn't exist then so Red Bull and whatever isn't in keeping with the theme.  Neither are craft, micro or most imported beers.  Basic Martinis, Manhattans, Old Fashioneds, Screwdrivers, Sours and Gimlets were popular as were whiskeys mixed with club soda, ginger ale or lemon-lime sodas on the rocks.  Fancier drinks of the era included Brandy Alexanders, White Russians, and Sloe Gin Fizzes, recipes for any of these can be found online.  Beers would likely be standard domestic brands – either national or local brands that existed then and still survive to this day – served from bottles along with a glass.  A gentleman of the early to mid-1960s didn't drink from the bottle in mixed company!  Soft drinks such as sodas and fruit juices are appropriate for those that don't wish to have alcohol – try to get soda in single-serving glass bottles for authenticity.  Festive punches and eggnog are also appropriate for the era and the time of year and a pot of coffee would always be at the ready in the kitchen.
Music
Today music is easy – you set up a playlist and play it on your iPod or a computer through a stereo system or a speaker dock.  The status symbol equivalent of an iPod in the 1960s was a Hi-Fi or High Fidelity system that may or may not have been in stereo.  These could take the form of furniture size consoles or more familiar components and generally included provisions for playing the radio and vinyl records.  That's it.  That's what folks had and it was a big deal!  While we're not suggesting that you go out and get vintage audio gear in working order; playing period holiday vinyl even on a modern turntable would get you extra cool points.  But even if you have to play digital versions, stick to what people would have listened to back then (and hide the iPod).  That would have mostly been numbers by the artists who were made the "pop standards" of the day such as Frank Sinatra, Nat King Cole, Perry Como, Tony Bennett, Guy Lombardo, Gene Autry, Burl Ives and the like.  Younger adults of the period might have also included Christmas records from the likes of Elvis Presley, The Beach Boys, Bobby Helms, Peggy Lee and the all-time classic of all rock and roll holiday music LPs "A Christmas Gift for You from Phil Spector featuring "Christmas (Baby Please Come Home)" by Darlene Love among other offerings the legendary producer created.  All of these are still considered Christmas classics and standards even today and should be readily available.
Décor
If you are actually considering a mid-1960s retro-style holiday shindig chances are you've seen TV shows and films that are set in the era.  If you have, you may noticed that home décor of the period tended to be rather traditional.  Take Mad Men for example – while the offices of the ad agency were the height of mod style, Don's home was pretty tame and traditional, especially in the formal living room and dining room where a party would have taken place.  So don't worry if you don't have all the high-style mod furniture and décor that you think would have been in a home of the era.  Chances are it wasn't.  But Christmas decorations were another story.  Mid-century Christmas decorations tended to be fairly over the top in their, um, let's just say gaudiness.  Lots of plastic, tinsel, glitter, red velvet, fake snow flocking and shiny glass tree ornaments was the norm.  Not that everyone had one; but this was the height of the era of silver aluminum tinsel trees lit by rotating color wheel lights.  Even traditional trees were all decked out in the big, colored screw-in light bulbs and infamously intriguing bubble lights.  And on top of that people tended to go nuts with decorating for the holidays so you probably can't overdo it yourself!  The good news is that Christmas decorations stayed mostly the same looking between the mid-1950s and the mid-1970s and there was tons of it so finding some real vintage items to deck your halls with shouldn't be too hard to come by although some of it has become highly collectable and thus pricey.
If you are enamored with the mid-'60s like a lot of America is, there you have it, fool-proof guidelines for throwing your very own authentic vintage-style Christmas house party!  So when can we expect to get the invitation in the mail?