It's such a momentous occasion — your little girl or boy is all grown up and graduating! Nice job, mom and dad. Now it's time to celebrate all of his or her (and your) hard work at school, whether he or she is earning a diploma or degree. Make your child (don't worry, you can still call them that) feel special by doing it up with all the bells and whistles that come with graduation announcements and invitations. The following are five great graduation-themed print items to do just that.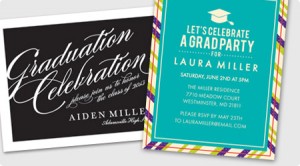 School's out for … ever!
Invite his or her friends, family and neighbors to your home for a pool party or another theme to cheers the new grad. Choose a flat graduation invitation, like this simple Promising Pointers Note Card Invitation, or go for a folded style, like this colorful Graphic Grad Cap Invitation. Send them out a couple weeks in advance so guests have time to plan for it. Let the graduation party commence.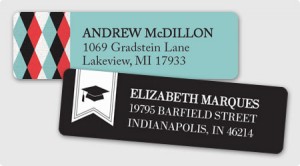 Label it with love.
Two ideas: The first is that you can also customize your address labels to fit with the graduate theme. ("Man, she's thought of everything," your guests will think.) And the second is that you can get some made for your new graduate to make them feel all independent-like. They can even include the address of their dorm or new apartment. Exciting!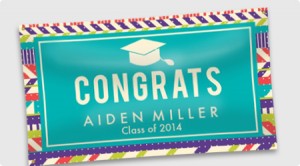 Deck out the party.
Hang eye-catching, colorful vinyl banners around the graduation party with a congrats to your exceptional graduate. Go big, like these preppy Commencing in Argyle Large Banners, or keep it small and subtle with a few of a smaller size, such as these Pinata Jubilee Small Banners. Hang them outside and inside for extra impact.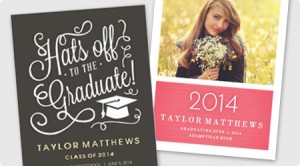 Hats off, graduate!
Not planning a big graduation party, but still want to give your kid major props and sing it out to the world that he or she HAS GRADUATED YIPPEEE? Then, go for a graduation announcement card. Similar to an invitation, these feature the graduate's name, school, date of graduation, class of 2014 and possibly a few sentiments from you. A fun idea is to include the graduate's photo on there, like you can do on the Rewarding Tassel Announcements Flat Card. Just make sure to get his or her approval on the shot before you send it out — you want him or her to feel good about it, after all.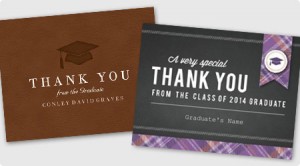 Keep them humble.
Whether your graduate needs to say thank you for his or her graduation gifts received from friends and family, or just for guests attending their party, these custom graduation thank you cards will do the trick. It's also a sweet idea to send these to teachers, coaches and principals (at least the ones that stood out over the years!).
Remember, for a limited time, you can save 25% on vinyl banners from 123Print
when you use Banner25 at checkout!
Do you have a loved one who will soon be a part of the Graduation Class of 2014? What kind of party are you throwing them? We'd love to hear from you! Drop us a note in the comments below, tell us on Facebook or tweet us @123Print.