Here at 123Print, I am the resident Harry Potter nerd. I take great pride in this title, despite the fact that I turn about 1000 shades of red whenever it's mentioned. In case you've been living under a rock the very last Harry Potter film (Deathly Hallows Part 2) came out in July and has made approximately $500 billion. That number is only slightly exaggerated. As a diehard Potter fan, knowing that there is no longer anything Potter related to look forward to was quite depressing.
I figured I'd look forward to taking my long-awaited pilgrimage to the Holy Land for Potter fans, Universal Studio's The Wizarding World of Harry Potter, but then after that it would just be waiting for Deathly Hallows Part 2 to be released on DVD. I came to terms with this and was recovering from my lack of magic depression, until I found out that people were having legit Harry Potter weddings. I don't mean just using Gryffindor or Slytherin house colors (if you're already lost, please have the Harry Potter Wikipedia article at the ready), but sorting their guests using the Sorting Hat and creating their own Hogwarts Express leaving from Platform 9 3/4. I am now on a quest to find a guy who will let me Potterize our wedding just like these people did:
The Wedding Invitations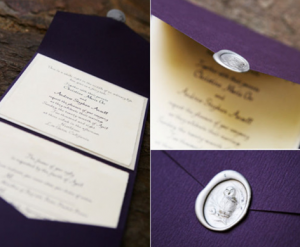 Wizards get mail just like muggles (non-magical people, aka you reading this); only it's delivered by owls. One of the most memorable mail scenes in the Harry Potter series is when Harry receives his acceptance letter from Hogwarts via owls, which I'm sure, is where this couple drew their inspiration from. It'd be pretty difficult to train owls to deliver 100+ wedding invitations to your friends and family, so this couple did the next best thing by sealing the invitations with an owl on a wax seal.
The Transportation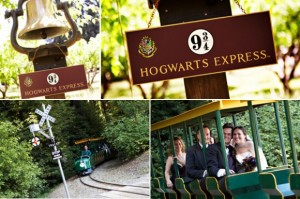 At the beginning of the school year, all students headed towards Hogwarts meet at the magical Platform 9 ¾ to take the Hogwarts Express to Hogwarts. I love this idea for a wedding Going to Hogwarts was always seen as going "home" for Harry, it's where he belonged and felt most comfortable – so I imagine the couple felt as if riding together felt like they were going home. Whoa. I just got randomly sappy. My apologies.
The Place Settings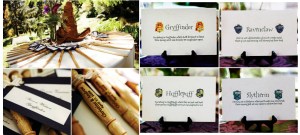 Once students arrive at Hogwarts, wands at the ready, the first order of business is to be sorted into one of the four houses: Gryffindor, Ravenclaw, Hufflepuff, and Slytherin. The sorting process is done through the use of the magical Sorting Hat, which analyzes the student and puts them in the house it feels would be best. This couple provided every guest with their own personalized wand and then sorted each guest into a particular house which I imagine was a creative way to get around the traditional wedding place cards.
The Wedding Favors and Food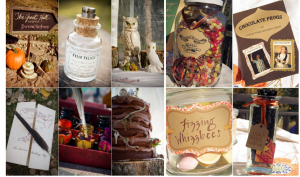 These are the kind of details that really make this wedding a complete and total Harry Potter wedding. You have a little container of Felix Felicis ("liquid luck") which readers are introduced to by Professor Slughorn in the 6th book. There's a jar of Berties Botts, which are essentially jellybeans but they come in "normal" flavors as well as horrible flavors like earwax and grass. Chocolate Frogs that come complete with collectible wizard cards (or in this case collectible wedding party cards), fizzing whizzbees (large sherbert balls), something that looks like it's a play on the Marauder's Map (perhaps it's the wedding program), and even wands with black magic (licorice).
Whether you like the Harry Potter series or hate it, you have to admit that a lot of work and creativity went into pulling this off. Every bride wants her wedding day to be "magical," and what better way to do it than to mimic one of the most thought out magical places ever created?
Sources:
Thanks to The Mary Sue and Diary of a Daydreamer for supplying the photos.