We'd like to offer a big
CONGRATULATIONS KIMBERLY HULSEY of AUSTIN, TEXAS 
Kimberly recently won our huge wedding stationery give away, and was awarded $1000 in wedding stationery and accessories from 123Print!
Not to toot our own horn or anything, but $1000 will get you pretty far at 123Print. We pride ourselves on offering the very best at a price you can afford, so with that in mind… what in the world could Kimberly even spend her $1000 on? Glad you asked!
First, the most obvious purchase – wedding invitations. Plan accordingly. Decide how many people you're inviting and purchase the next quantity up from that number. You'll want to have extras in case invitations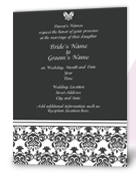 get lost in the mail, or you decide to increase your guest list at the last minute. For those of you not planning a wedding, keep in mind that wedding invitations make great invitations for any other type of event, ranging from sweet 16 parties, to an invitation to a school play.
Don't forget to get the RSVP cards. You need to keep track of how many people plan on eating the chicken, beef, or are opting for that delicious vegetarian choice you're so kindly offering. While we're on the topic of RSVP cards, to everyone that receives a wedding invitation… please take the time out to actually RSVP. Planning a wedding is stressful as it is. Don't make it more stressful for the bride and groom, by not giving them a head's up if you're not planning on attending. It takes all of 5 minutes to fill the card out and pop it in the mail. Seriously. Fill it out.
Thank You cards are an absolute must. I learned this from an episode of "Everybody Loves Raymond," believe it or not. The episode in question is actually called "Thank You Notes" and aired during season 8. Basically what happens is Marie Barone (Raymond and Robert's mother) gets annoyed with Amy (Robert's recent bride) for not sending out thank you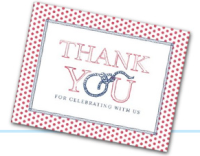 cards as soon as they return from their honeymoon. Amy and Robert have only been home for a day or two tops, when Marie starts launching into her about how people are asking where their thank you notes are. So, let this be a lesson to Kimberly and everyone else – buy thank you cards ASAP, get them written and mailed out ASAP, before your over-bearing and crazy mother-in-law comes storming into the kitchen and verbally assaults you, followed by a laugh track. It's for your own good, really.
Let's say Kimberly still isn't at her $1000 limit. What else can she spend her money on?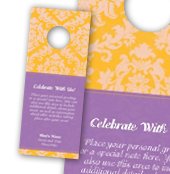 I've been invited to plenty of weddings where the bride and groom have blocked out a set of rooms at a local hotel for their out-of-town guests. Kimberly could purchase an assortment of wedding door hangers to hang on the handle of each room where a wedding guest is staying. Play it safe and customize the door hanger with wedding party information (bride and groom's names, wedding date etc) or get a little playful and put things like "DO NOT DISTURB. THE WEDDING MADE US FEEL FRISKY!" Just a thought. That depends on your personality and whether or not your guests (and 97 year old great-grandmother) will find the humor in such a bold statement.
In the grand scheme of things, it's Kimberly's wedding and her winnings. She's free to spend the $1000 prize money as she wishes at 123Print. Maybe she's thought of a way to incorporate WeeBees TM into wedding party favors, or has come up with a way to use one of products that we've never thought of. If that's the case, I hope Kimberly lets us know her new and creative use. Otherwise, congratulations again to Kimberly!