Have you ever wondered how something so simple and small can make a big impression? Business cards do exactly that. Tried and true, they get the job done.
How did business cards evolve?
Business cards got their start in Europe in the 1600s, being used as calling cards. Visitors used them as a proper way to announce their arrival at high society homes. Engraved cards, featuring filigree designs or coats of arms, were given to the servants to present to the Lord or Lady of the home.
By the 1800s, the calling or visiting card was a staple of the upper or middle class society in Europe. Calling cards made their way to the States during this time, with business card use in the U.S. becoming widespread by the 1890s, during the gilded age of railroad, mining and finance barons.
 Business cards today.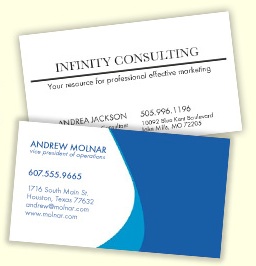 During the early twentieth century, business cards were used for exchanging contact information or leaving a message if the recipient was unavailable. Business cards have continued to advance as not only a way of introducing yourself or your business, but also a means of advertising.
For many years, business cards were only black and white with just the facts. Now, thanks to continuous improvements in printing, you can get full-color business cards on a variety of paper stocks, magnet backers and with special die-cut features. They have also changed from a formal etiquette item to a creative, eye-catching piece of personality and information. These small, 3" x 2" cards can make a big impression with the style of lettering, addition of photos and the thickness of the paper they are printed on.
Let these little powerhouse items work for you at trade shows, business meetings and conferences. It's easy to create a custom business card that defines you and your business using one of 123Print's templates and your company logo or image. And, at 15% off during April, it's an opportune time to restock your business card supply. Just use promo code BIZCARD15 in the shopping cart.
After four centuries of use, business cards are still an essential part of relationships, in particular business, and used around the world. Some countries make a ceremony of presenting the card or it can be an informal way of passing along phone numbers and email addresses.
However, one thing remains the same: First impressions do matter, even in a digital age. A custom business card can open the door to a great start when beginning a business relationship.