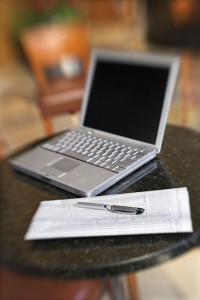 Welcome back everyone! We know it's been awhile since we last posted, so forgive us. We're human. It's been challenging getting back into the swing of things around here thanks to frigid temperatures and the depression of knowing the holidays are most definitely over. All in all, everyone here at 123Print had a lovely holiday break and we've been busy planning a lot of exciting things for YOU in 2012.
Our very first blog post was posted on August 22nd, 2011. We mentioned how we're always here to help and listen – and boy have we listened! We tried a lot of different things with the blog during the last portion of 2011. Some things worked and some things didn't. After listening to feedback from both our Facebook and our Twitter, it became obvious that what you (our readers) want more of, is information that is beneficial to YOU.
With that said, we took the beginning of January 2012 to not only recover from over-eating during the holidays, but to ask ourselves "What information can we relay to our customers to help them?" Sure, information about our products (business cards, wedding invitations, save the dates and more) is useful… but there had to be more!
We've revamped the categories you'll find on our blog, and will be posting in regard to certain topics on certain days. This way you can read at your leisure. You'll know beforehand which days there will be a blog post that may interest you, and which days won't. From here on out, we'll be posting every other day and taking the weekends off (we need to relax too!), operating under this schedule:
Mondays – Technology Mondays. We'll look at everything from email providers to cell phones to mobile phone apps.
Tuesdays – Family and Life. Ideas and inspiration for everything outside of your work life.
Wednesdays – Wedding Wednesdays. Everything wedding related.
Thursdays – Small Business Information. Ideas and suggestions on how to make your small business a success.
Fridays – Design Tips & Tricks. Our creative team will supply ideas and tricks on making your personalized product look its best.
Remember, we are always listening. We want your feedback, insight and opinions. Have a great idea for a blog post? Feel free to comment, post on our Facebook or send us a tweet.
Come back tomorrow for ideas on a football theme party!