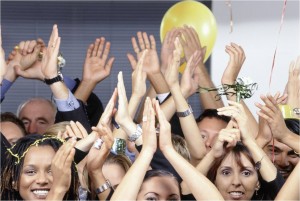 'Tis the season! Does your company take part in the season of giving? If your office is planning a holiday party, keep in mind these tips to make sure the office Santa doesn't mark you as naughty and give you coal for your holiday bonus.
10 Tips for Appropriate Office Holiday Party Etiquette:
–          Show interest. Make sure you're paying attention to the person who you're talking with. Whether it's simply nodding your head, or even responding with comments and questions, it's important to let the other person know you care about what they have to say. As hard as it may be, try to refrain from noticing how long the food line is getting!
–          Be aware of your body language. Having positive, engaging body language says a lot about your level of interest in what others are talking about. Maintain eye contact and lean in toward the person who is talking. Change your facial expression to match the tone of what the speaker is saying. Remember that if your body is pointing away, that is a subtle sign that you want to get away.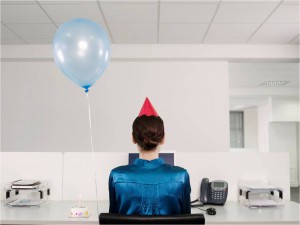 –          Do your homework. Sometimes, good conversation requires a bit of research. Have a few conversation starters in mind, avoiding any touchy subjects such as office gossip, religion, politics or anything depressing. Think like a "lifestyle" section of a newspaper — talking about movies, food/dining, events and sports are some good alternatives.
–          Listen. Have you ever heard the golden rule of having a good conversation? Listen 60 percent of the time and ask questions the other 40 percent. Don't worry about what you're going to say next — this could lead to the embarrassing faux pas of asking a question you've already asked. (Let's admit it — we're all guilty of this at some point!) Engage in some real conversation!
–          Ask questions. Show the other person that you are genuinely interested in what they have to say by asking a question. Hopefully, they will ask you one in return. Remember, being a great conversationalist is not about amusing an audience with an endless stream of funny stories and anecdotes — it's about establishing bonds with others.
–          Team up with your date. Work together to find other attendees who have similar interests. For example, if both your boss and your date are sports fans and you're not, break the ice by having your date bring up the final score of last night's game. Also, make sure to always introduce your date to the person whom you're speaking with. You don't want to stick to your date like glue, but you don't want to abandon them, either.
–          Learn how to excuse yourself. Have you ever felt roped in to a conversation with someone who spouts on and on and never seems like they're going to stop? If you feel trapped, take advantage of when they take a breath by inserting a positive comment such as, "Wow, you really know a lot about [insert topic here]. Will you excuse me for a moment? It was so nice chatting with you!" Make sure you actually do follow through on being excused (such as using the restroom or making a phone call).
–          Talk about the holidays. What more appropriate time to talk about holiday plans than at a holiday party? Ask people what their traditions are, if they plan on traveling, where to find the best holiday deals, etc.
–          Don't talk about work. Especially office gossip. This is not the place to discuss who stole whose sandwich out of the fridge, or whose department is the most inefficient. An office holiday party is also not the time to confirm meetings with clients or talk about last week's sales numbers. However, it is okay to mention some positive milestones, such as "How cool is it that this company just had their 10-year anniversary?"
–          Say and give thanks. Before you leave, make sure to thank your boss or whoever threw the party, especially if it's at their house. If you'd like, a custom thank you cards also serves as a nice gesture. Remember what the holidays are all about 🙂
Is your office throwing a holiday party? More so, are you the one planning it? Let us know any other office party etiquette tips you've found useful in the comments below, on our Facebook page or tweeting @123Print.