123Print, which offers custom printing of business stationery and marketing materials as well as social communication products, was recently selected to join the Google Trusted Stores program. To help shoppers identify online merchants that offer a great shopping experience, the Google Trusted Store badge is awarded to eCommerce sites that demonstrate a track record of on-time shipping and excellent customer service. When visiting the 123Print website, shoppers will see a Google Trusted Store badge and can click on it for more information.
Virginia Hansen, 123Print General Manager, explained, "123Print prides itself in providing great customer service and fast shipping. Joining the Google Trusted Store program was a natural fit for us. Seeing that badge on our website will help new customers know that they're customizing their printed products at the right place."
Purchase Protection
As an added benefit, when a shopper makes a purchase at a Google Trusted Store, they have the option to select free purchase protection from Google. Then in the unlikely event of an issue with their purchase, they can request Google's help, and Google will work with 123Print and the customer to address the issue. As part of this, Google offers up to $1,000 lifetime purchase protection for eligible purchases.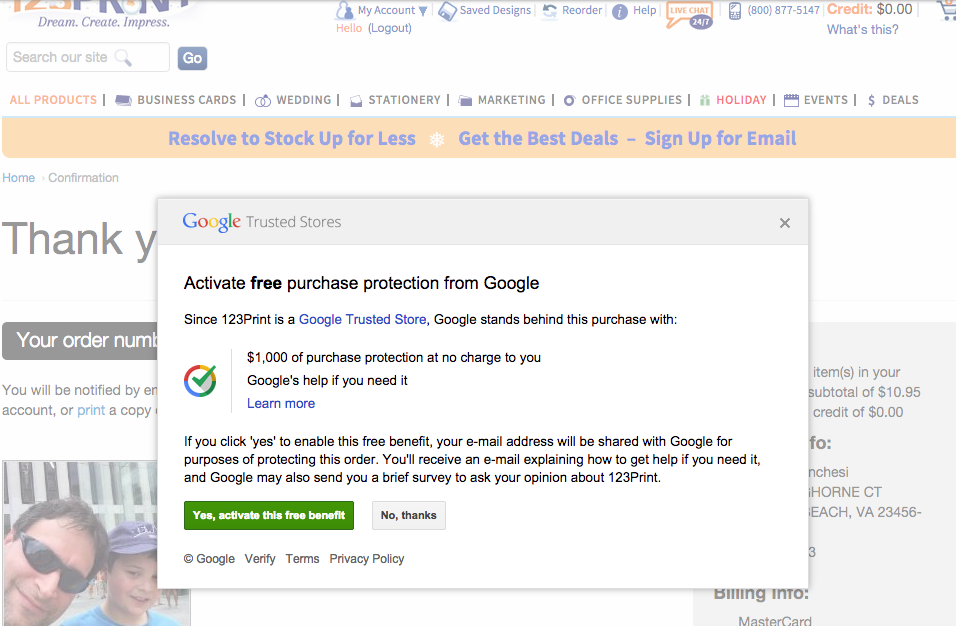 No Cost
Google Trusted Stores is entirely free, both for shoppers and for online stores. The program helps online stores like 123Print attract new customers, increase sales and differentiate themselves by showing off their excellent service via the badge on their websites.
Committed to our Customers
123Print shows its commitment to giving small businesses and consumers affordable access to the same kind of high-quality printing and services as big businesses in a variety of ways. The majority of 123Print paper printed products are produced and shipped by the next business day if the order is received before 1:00p.m. EDT. In addition, the company makes it easy for customers to get their questions answered with online chat, toll-free customer service at 800-877-5147, and 24/7 fax access at 888-634-4621. Email support is also available at [email protected]. The goal is to respond to customers within the same business day, and sometimes sooner. Hansen concluded, "Customer satisfaction is our goal, and we're proud to be partnering with Google to help ensure our customers feel confident about shopping at 123print.com."