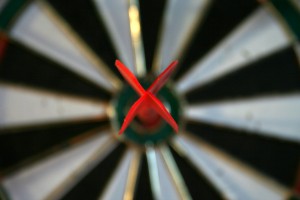 According to a 2010 Staples survey, 77% of small-business owners said they had not achieved most or all of the dreams they had for their company. And over 80% admitted they didn't monitor their goal setting or seek the assistance of the proper advisors to help them achieve their goals. Does this describe you? With 2014 just around the corner, there's no time like the present to get focused and make plans for your most successful year yet! Following are five pieces of advice for setting your small business goals for 2014.
Go On a Mission — Does your company have a mission statement? If not, you need one. It gives you focus. Forming a good mission statement starts with answering four essential questions and putting together a succinct, specific statement of your company's purpose and how you provide value to your customers. If you already have a mission statement, re-evaluate it. Then make sure that everyone who works at your small business knows it.
Make Smart Moves — Now that you have a good missions statement, what is your strategy for accomplishing that mission? Set business goals and develop tactics that are consistent with your business strategy and mission. And remember to make "SMART" goals (Smart, Measurable, Attainable [some places say the "A" stands for "action-oriented," that would work too!], Realistic and Timely).
Know the Long and Short of It — When setting SMART goals, make sure that you have both long-term, three- to five-year goals, as well as short-term goals. Tie those short-term goals into the long-range ones, so everyone can see how the small details are stepping stones toward achieving your long-term objectives.
Share Team Spirit — Each member of your team should have goals that tie to your short- and long-term objectives. When you break down specific actions and assign individuals to be accountable, it can help motivate the team and let everyone see how their role affects the overall company goals. Be sure to incorporate acknowledgements and rewards as further motivation and to help ensure that results are being tracked.
Plan for Good Measure — Far too many businesses set goals and then never measure the KPIs (Key Performance Indicators) along the way or the results in the end. Your goals are worthless if you don't track the KPIs. You have to know whether or not your tactics are working. Failure is a normal part of successfully achieving your goals, but you can only succeed if you know you're failing and then make the appropriate adjustments.
If you need more help developing good goals, please see our, "He Shoots, He Scores" blog for additional details. And if you have goal-setting advice for other small businesses, we'd love to hear it. Please share your business goal-setting ideas below, leave a message on our 123Print Facebook wall or Google+ page, or tweet us a link to a helpful article.