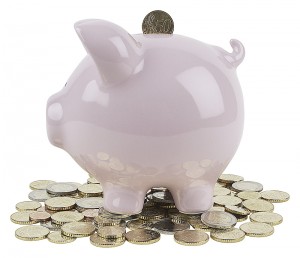 If you've been reading along with us for any length of time you've probably already realized, and if you're new around here you're about to realize, that we don't tend to get wrapped up in talking about sales or promotions on the 123Print Blog. But every now and again there are some things that are so swanky we just can't resist letting you in on them. The swank-o-meter goes up another notch when an opportunity for you to profit is involved. This, my friend, is one of those times!
The level of chatter from the number crunching and bean-counting half of the marketing department was getting louder and louder and for once it wasn't "forecast this" and "analysis that." That meant one thing and one thing only – something big was about to happen! And big it was. Big enough that those of us in the normally promotions-jaded communications half of the marketing department actually got excited! So what the deuce is so gosh-darned exciting you ask? It's the new Refer-A-Friend program!
Before you run off saying "big deal – what's in it for me?" hear me out, because that's exactly why we're jazzed about it! Unlike other programs where you can share specials or discounts with a friend, which is nice, the 123Print Refer-A-Friend program not only knocks a nice, fat 20% off your friends' first orders; it also gives drops a $5 credit in your pocket for every friend who takes advantage of the offer. That's even nicer! Share the 123Print goodness you love with a few friends and before you know it you'll be raking in some free stuff from your favorite online printer!
And if that's not enough, I'm going to let you in on a little something extra, just because that's the kind of guy I am. We call it Refer-A-Friend, but that's only because "Refer-A-Friend-Your Family-Your Neighbors-Your Co-Workers-The Guy Who Held the Door for You at the Coffee Shop This Morning-and Heck Even Your Enemies as Long as You Have Their Email Addresses" was ridiculously long, inefficient and stupid looking. Seriously, if you know anyone who could use anything we print from business cards to wedding invitations, banners, postcards or anything in between refer them and start pocketing credits for your next purchase!