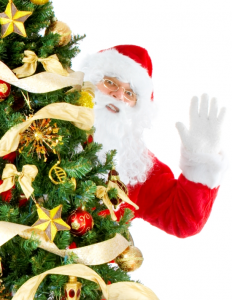 It's the most wonderful time of the year! Cookie exchanges, pumpkin pies, Santa's sleigh and … your company's office party.
As fun and festive as a holiday party can be, they can also be stressful for a small business owner to plan. Do you often wonder what you can do to make your holiday event fun for your employees, yet stay within budget and remain on track with year-end work goals? Don't worry! There are a lot of enjoyable holiday-themed activities to get employees in the holiday spirit while not breaking the budget. Read through to get some ideas for your upcoming holiday office party!
Holiday Party Idea #1: Organize a Secret Santa
A Secret Santa game is a great way to involve as many employees as want to participate. Set a dollar amount at the beginning of the holiday season, draw names anonymously and then have people give small gifts to their assigned person. This is a great way to build comraderie and learn more about team members. Total cost can be minimal – even $10 would work. Candy, soap, a nice pen, hot cocoa or tea all would be great ideas for Secret Santa gifts.
Holiday Party Idea #2: Host Office Potluck
Another way to build team spirit and get into the holidays is with a holiday potluck. You could set a theme for the luncheon or just have people sign up to bring their favorite dish. Either way, a potluck is affordable and a nice way for everyone to contribute to the festivities. As the owner, you may want to contribute a main dish that is catered or maybe a special dessert for everyone.
Holiday Party Idea #3: Give Back
The holidays are a great time to give back to those who are less fortunate. Setting up a canned food drive, toy drive for kids, or coat and mitten drive are all worthy causes that encourage employees to pitch in together for a greater cause. If you wanted to get the entire company out of the office and do something charitable together, volunteering at a soup kitchen as a team would be a wonderful way to give back while building team commraderie. Check out local organizations or visit this volunteer website to find a volunteer opportunity near your office.
Holiday Party Idea #4: Get a Photo Booth
A photo booth is a trend currently big at weddings, but it would sure be a fun thing to surprise your employees with! Photo booths do run at least a few hundred dollars to rent, so if that isn't in your price range, why not get creative and make your own? Buy some inexpensive props at a local craft store, like silly hats, boas and sunglasses, hang a simple holiday-themed backdrop against a wall in the office, and set up someone's camera. Instant photo "booth!" Once you have all the photos, you can print out a copy for each person and keep a copy for the office.
Holiday Party Idea #5: Give Out Door Prizes
Everyone likes gifts at the holidays, but often you can't afford to give everyone a substantial gift. Having door prizes at your office party creates excitement and buzz with the employees, especially if it is a great gift like an iPod or gift certificate to a good restaurant. Everyone gets a chance to win and then draw a name at random.
Holiday Party Idea #6: Have Lunch Catered
If you have room in your budget to have a nice lunch catered, employees will always appreciate it. It's a great way to say "thank you" and give everyone a chance to sit and enjoy a meal together. Plus, if they don't have to cook or clean up, it's definitely a bonus! Popular ideas for catered lunches are a traditional holiday dinner (turkey, potatoes and gravy), a pasta bar, a taco bar, or even BBQ. Don't forget dessert: A chocolate fountain is always a crowd-pleaser!
Holiday Party Idea #7: Hire Local Entertainment
A nice complement to a catered or potluck luncheon is some holiday entertainment. Many local schools have "show choirs" that have a holiday song list and who wil come out and entertain your team for a minimal cost. Some even have choreographed dance routines to go with the music. Talk to the music teachers at high schools or colleges in the area – there are a lot of talented kids out there!
I hope these seven ideas help you in planning your own company holiday party. Are you planning on incorporating any of these ideas into your own company festivities? Leave a comment below and let us know what fun holiday party ideas you have come up with!