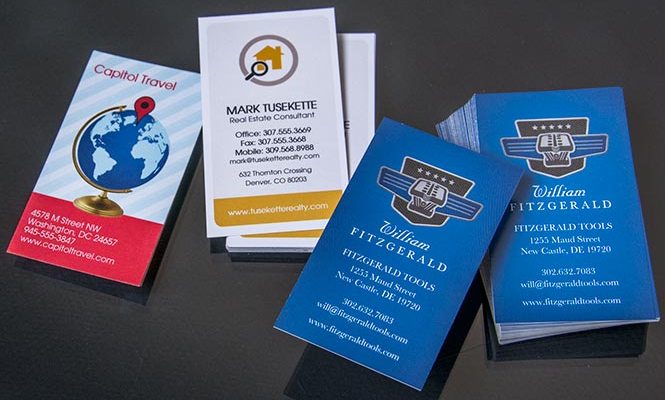 Business cards will always be in style. It's a fact. U.S. News recently published an article showcasing why business cards should be considered a professional asset, and how to do so. Inspired by this reaffirming notion that there's something to be said about presenting a prospective customer with an attractive, eye-catching business card, we've come up with 15 tips of our own. Read on for our latest tips for creating and distributing custom business cards!
1. Before you begin, create a logo. It is important to maintain brand consistency and recognition when expanding into printing more and more marketing materials. But remember, it all starts with a business card.
2. Ask someone with design experience for their help. Whether you're able to use their talents to help with the arrangement of your business card, or simply to put in their two cents, they'll be able to look at your business card from a different perspective.
3. Include all your important contact information. Don't overwhelm your business card with too many ways to contact you, but make sure you give a few different options. And it can be easy to forget the obvious pieces, such as name, title and company.
4. Use the back of your business card. Whether you use it to feature a discount, include a customer testimonial, or any other use, you should take advantage of giving your customers double the information!
5. Consider making your cards "stick" by turning them into magnets. Are you in the service industry? This could be an especially helpful tip for you as it will keep your name and contact info handy when a potential customer is in need.
6. Print business cards for your employees. Trust me, it will mean a lot to them. Plus, if you have employees in various demographics, that could help your name extend to groups you wouldn't have thought of!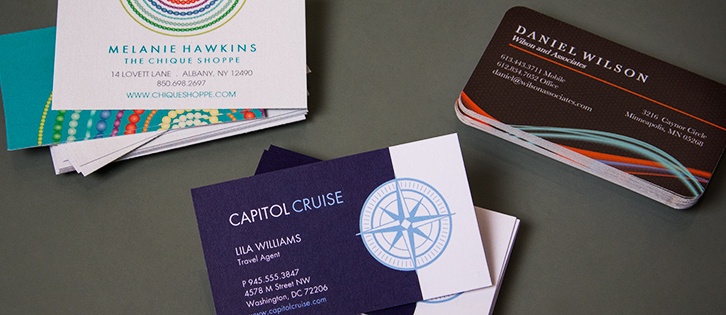 7. Keep your business cards everywhere. Seriously, everywhere. Have them on you at all times, in all situations. You never know when the situation might call for a bit of networking!
8. Don't be afraid to put your cards on bulletin boards around your community. One of the reasons they're there is to encourage collaboration and awareness.
9. Hand out your business cards to encourage referrals. You could even go as far as offering some kind of cash back or bonus to people if they bring you customers!
10. Include a business card with all your professional correspondence.
11. Include a business card with all your product shipments.
12. Include a business card with all your promotional gifts.
13. Create a business card partnership with a related business. Do you run a doggy day care? Exchange some business cards with a local pet groomer and make an agreement to display one anothers' cards. You could even offer their customers an exclusive discount.
14. Get scholarly — think about sticking a business card in a relevant library book! This strategy will also turn your business card into bookmark.
15. Leave a space on your business card to hand-write relevant, timely information. If the person you're speaking with has a questions about a specific product or service, it would be super helpful for them if you could write their answer right on your business card. This will help them associate their need with your business!
What other tips would you have for someone refreshing their business card supply or even creating their first set of cards? We'd love to hear from you! Let us know in the comments below, or connect with us on Facebook, Twitter or Google+.