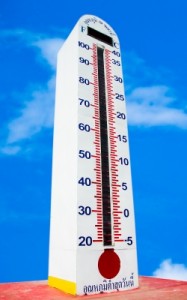 The temperature is heating up, and your summer marketing efforts should be off the thermometers! Summer is a unique time to try some new marketing tactics for your small business that you may not feel comfortable risking during your busy season(s). Read on to learn nine outside-the-box marketing ideas for the summer season:
Take a client out to lunch. Take an afternoon to bring your top customer to that new, hip restaurant for lunch. Learn more about them and their business (if applicable) and discuss the history of your relationship and get their unique perspective on the good and bad of your partnership. You'll want to make them feel comfortable enough to know the lunch serves as an open forum and you are interested in their honest feedback to help grow your business.
Give your employees more vacation days. Consider surprising your employees by gifting them a day or two extra vacation this summer. If it's crunch time and an entire day off isn't manageable, what about letting the herd go home early on days before holiday weekends or even every other Friday? A boosted employee morale could mean boosted sales for your business!
Use the slow season to fine tune your processes. Summer can be a slow time for many businesses, so use it to your advantage by spending some serious time in developing and recording your processes. This is something that many businesses lack simply because they can't find the time to do it. Trust me, by doing so, your busy season marketing tactics will be able to be implemented more smoothly.
Print you logo on promotional products for your employees. Your employees will have quite the busy schedule this summer, so why not give your business the chance to extend its reach? Print t-shirts, pens, hats, mugs, etc. with your company's logo on it and gift it to your employees. Encourage them to use them this summer! More exposure for business means more room for growth with your employees!
Set up a booth outside your store. Especially if your business is located in a busy area. Target people casually walking around and shopping by giving them an intriguing reason to stop by. Consider doing a demonstration that proves why your product/service is the best. Host a giveaway where prospects provide you with their email address for the chance to win a prize. Or, have a cornhole tournament or horseshoe toss going on to really grab people's attention!
Reach out to local media outlets. Have a unique, interesting story to share? Write a press release and submit it to local radio station,s TV stations, etc. The worst they can say is No!
Give back to your community. Make a donation (either in the form of money or products/services) to a local event going on this summer. Your city government's website is usually a great place to scope out upcoming events, as well as who to contact. Charitable donations could give your business some positive publicity!
Do a flash mob. Okay … we may be reaching too far on this one, but how many viral flash mob YouTube videos have you seen in the past year?! Corral your enthusiastic employees to do a little dance to this summer's hottest song. Then, make an appearance at a local community event or festival (you may have to coordinate with the organizer first) and let 'er rip! This puts your business in a fun light and gives prospects a compelling reason to see what your company is all about.
Take your advertising outside. (This one is kinda obvious). Remember, life is a highway and they want to read it all night long! Summer is the perfect time to kick your outdoor marketing efforts up a notch. Hang an eye-catching banner outside your storefront advertising your hot summer deals. Stick a colorful yard sign at the top of the street pointing customers toward your business. Slap a custom car magnet on your sedan, and cruise the streets during a sunny Saturday afternoon. Take advantage of the season!
How are you planning on heating up your small business this summer? Do you have any other outside-the-box ideas that we can add to our list? We'd love to hear from you! Leave a comment below, or connect with us on Facebook, Twitter or Google+.