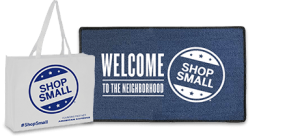 With Halloween behind us and Thanksgiving on it's way, the most important 96 hours of holiday shopping will be here before you know it. I'm talking about Black Friday on November 29th, Small Business Saturday on November 30, and Cyber Monday on December 2nd. Since Saturday's focus is on small businesses, let's concentrate on that.
Confirm What You Know
Don't just assume that you already know your customers and prospects. Re-evaluate what you know. What motivates them and where do they find out about your sales and offers? Is it the newspaper? Radio? Email? Direct mail? Social channels? If you're not sure, just ask them. Knowing when and where to communicate with your customers will be crucial to your holiday sales success.
Go Outside Your Comfort Zone
Now that you're feeling confident about where and when to advertise your Small Business Saturday® deals, it's time to define them. For inspiration, let's consider a quote from Will Rogers, "Why not go out on a limb? That's where the fruit is." So rather than go with the same-ol' same-ol', why not come up with a promotion that might make you feel a little uncomfortable — but will attract attention and bring people in the door or onto your website. Maybe that would be offering a deep discount or a free trial. If it's a one-day, Small Business Saturday-only offer, you can manage the risk and test it to see what kind of rewards, or "fruits," it will bring to your small business. Remember, these are the busiest 96 hours of shopping in the year. You have to do something extra to get noticed. Plus, a 24-hour offer will create urgency.
The More the Merrier
Here's another quote to consider: Variety is the spice of life. In other words, don't just come up with one offer or promotion. You have a range of customers with an assortment of interests, and different offers will appeal to different people. Try multiple holiday marketing strategies to see which ones work best. Then learn from that and apply it to future promotions.
Learn from Others
If you're looking for more ideas, The American Express "Shop Small" website is chock full of tools, support and inspiration. From logos you can add to banners, postcards and brochures, to video case studies of promotions that worked for other small businesses last year. You can even have your small business featured in their Shop Small® neighborhood listing!
Start Now
You're lucky, because Thanksgiving is late this year, so Small Business Saturday falls on November 30, 2013. That gives you three weeks to prepare. You need to settle on your special offers today and order your marketing materials sooner than later.
Do you already have your Small Business Saturday marketing in place? If you have anything you can share, we'd love to hear it. Or maybe you can tell us what worked for you last year or ideas you saw that have inspired you for this year. If so, please comment below, tweet us, or leave a message on our 123Print Facebook or Google+ pages.