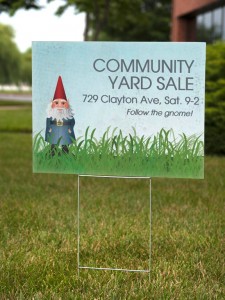 Ah, sweet summer time. Can you feel it coming? The warm breeze, the hot sun, longer days … and Yard Sales! It's that time of year again to do some summer clean-up, especially with your grad getting ready to leave for college in the fall. Yard Sales are a great way to start an "out with the old, in with the new," summer mentality. Read on for 14 tips to have a killer Yard Sale this summer.
Make you signs big. Think of what catches your eye when you're driving. Is it a small, rinky-dink poster or a massive yard sign? You'll want to plant your sign on the busiest road closest to your home so that it will receive the most attention possible. Remember, when it comes to outdoor advertising, bigger is better.
Don't just stop at one — have TWO big signs. One for traffic going one way, and one for traffic going the other way. Just make sure to place the sign before your street or neighborhood entrance. Think of it like this — if you are only putting out one sign for one-way traffic, you are potentially missing out on half your sales.
Use balloons. Seriously. Be obnoxious. You want people to look out their windows and instantly be drawn to your Yard Sale sign. You'll be surprised at how many positive comments you'll receive from passer-bys.
Include the date, time and address of your Yard Sale. You don't want to leave any questions on the table or you run the risk of potential customers blowing you off due to uncertainty — such as "is this thing still even going on?" Make it as easy as possible for people to want to come.
Use the same colored sign. That way, people can make the visual connection in a "Follow the Yellow-brick Road" sort of way. If the first sign they see is orange, every sign leading them from the main street to your doorstep should also be orange.
Print BIG and in a dark color. Remember that people will be driving, sometimes rather quickly, past your sign. You want them to be able to see your sign from a good distance away.
Guide traffic with arrows. Again, this is all in line with making it as easy as possible for people to find your sale. Seeing arrows guarantees a person they're headed in the right direction or are almost there. If people feel they are lost, they will most likely turn around and leave.
Promote your sale with flyers. Consider hanging flyers in busy places around town. Many businesses offer community boards that are open to the public (with permission from the owner in most cases) to advertise on. In addition, post about your sale on a daily basis to Craigslist, leading into the sale a few days early.
Get another family or household to go in on it with you. Once it's more than just yourself, you can advertise your sale as a "multi-family," "community" or "neighborhood" sale. This will draw more attention to it and will be a powerful tactic to get more people to come. The more stuff you have for potential buyers to look at, the better.
Advertise some of your best items. Print out multiple versions of your flyers, or just hand-write (nicely!) on some of them, what you believe your top-coveted items will be. For example, "Brand new leather recliner" or "Gently used shoes — $5 and less!"
For your higher-ticket items, such as furniture or electronics, make a separate sign to display. Something that will give your customers a bit more assurance that they're getting a quality item at a great price. Think "works great!" or "make me an offer!"
Label everything with a price tag. Yard sales can get chaotic. You will best stay organized if you already have everything labeled with how much you're willing to sell it for. Plus, putting a price tag on everything, surprise surprise, makes it easy for your customers. Don't let your potential customers talk themselves out of a sale by saying "Well, I don't even know how much it costs … " If you're unsure how much you want for a specific item, you can label it with "make me an offer" or "negotiable."
Organize your items. Sort them into categories — baby clothes, men's pants, women's shoes, books, toys, etc. You won't want to lose customers that aren't the "search for hidden treasure" types. Also, having your items up on tables instead of on the ground will make them look nicer. And don't forget to put sets of things together!
Welcome each and every customer. Prepare to set up early and take down late. You will have both early birds and late comers, and you never know what they're looking to buy! To make your customers feel extra special, try to greet each one of them and let them know to ask you if they have any questions.
Have you ever had a Yard Sale? Are you planning on having one this summer? What other tips would you add to the list? We'd love to hear from you! Let us know in the comments below, or connect with us on Facebook, Twitter or Google+.
For a limited time, you can take 25% off Custom Yard Signs at 123Print!
Use code YARDSIGN25 at checkout. (exp. 5/31)