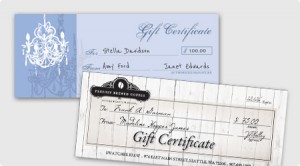 Does your small business harness the often overlooked power of Gift Certificates? Think of a past birthday or Christmas — how many gift cards or certificates did you receive? Actually, take a look in your purse or wallet … how many do you have floating around right now? Like many of us consumers out there, we love both receiving and giving custom gift certificates. They're easy and almost guaranteed to let either yourself or that special someone find exactly what it is they seek. So, give the customers what they want! Read on for three easy ways to boost gift certificate sales for your business.
Sell "packages" instead of fixed-money amount card limits. One differentiator that will make your small business stand out from those big corporations is the ability to develop gift certificate offerings that are good for more than just cash-on-card. Instead of selling a dollar amount, think of it as selling an experience. For example, depending on what industry you're in, you can sell gift certificates for a four-course meal, an hour of horseback riding lessons, or a complete day at the spa. Think about what services your business offers and divide them into tiers or different price points. When you just offer a dollar amount to be redeemed, you may be limiting the gift giver. If you really play up your services, your customers may be willing to spend that extra $25 to get the deluxe package instead of the regular. Many gift certificate buyers will not be from your regular customer base, so will not know much about what you sell or how much to get. By qualifying your gift certificates instead of quantifying them, you could help out a husband, for example, who wants to buy a spa gift for his wife. It also helps your gift givers give a more "personalized" gift.
Clean and optimize your website. While this is something you should be doing anyway, it particularly comes into play when trying to market gift certificates for the following reasons. By setting up your business to play in the "local" field (i.e. optimizing your website for "product/service name" + "your location"), your small business will really have the advantage to shine. So, for example, when someone searches "flowers in Maryland," your website will come up in the search results. When purchasing gift certificates, buying something locally gives it a more personal touch. In many cases, you have out-of-towners searching for products in or near the city where a friend or relative lives. Whatever the case, you want your business to be there! Also, take some time to make sure your business is listed on sites like Google Places, Yahoo Local, Yelp, etc. There are many other directories out there and, better yet, most of them are free! While you're at it, if you have anything on your website that isn't "simple," take it down. For example: music on your website, anything that requires Flash, if it has a "click to enter" button, etc.
Create a campaign and cross-promote. Customers will never know they can buy gift certificates unless you tell them. Consider putting a sign out in front of your store or some rack cards on display at the front desk. Whatever message you choose to use — whether it be "Ask about our Gift Certificates" or "Give someone a gift they'll always remember," make sure it's consistent across all of your promotional methods. And don't be shy about spreading the word. Lots of signage will not be intrusive, it will be informational. Encourage your employees, particularly if you have cashiers, to remind customers whom they speak with about your gift certificate offerings. If your business is seasonal, one tactic you may want to consider doing is setting up a voicemail message encouraging callers to buy gift certificates for when you reopen. And of course, you can't forget about promoting online. Whether it be an email, social blast, or a banner on your website, you want your messaging to spread far and wide.
Does your small business sell gift certificates? What other methods would you suggest to business owners just getting started? We'd love to hear from you! Leave a message below, or connect with us on Facebook, Twitter or Google+.