Always wanting to help our small business friends, we thought you would like to know about a recent mandated government change. According to Mondaq, the new I-9 has gone to 9! (Pages, that is). As of March 8, 2013, the Department of Homeland Security (DHS) issued a new version of the Form I-9, Employment Eligibility Verification. If you're not familiar with an I-9, here's the low-down:
Employers must complete Form I-9 to document verification of the identity and employment authorization of each new employee.
This new version of the form will be mandatory for all businesses as of May 7, 2013. Out of the complete 9-page form, six of those pages make up the detailed instructions, two pages are the I-9 form itself (which is what both the employer and employee will complete) and the last page is the list of acceptable I-9 documents.
So What's New?
Revised format

Renamed questions

New 3D barcode (which will be used in the future, after technology enhancements)
As an employer, you must provide each employee with the entire 9-page form. The employee only needs to retain the actual two-page I-9 form (pages 7 and 8). Note that you do NOT need to redo existing I-9 forms for current employees. However, if a current employee has temporary work authorization that is expiring, the employer must re-verify that authorization by using this new version of the I-9 form. After re-verification is complete, the employer should clip the new form to the existing one.
As of May 7, 2013, an employer can no longer use the old, 2009, version of the I-9 form for both new hires and re-verifications. In order to avoid a fine for failing to use the correct version, make sure that you order yours soon! Both our Small Business Essentials and Hiring Essentials business form kits include the new I-9 form.
What else you'll get: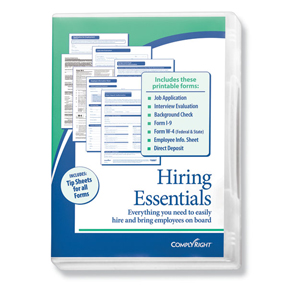 Hiring Essentials – Everything you need to easily hire and bring employees on board.
Job Application

Interview Evaluation

Background Check

Form I-9

Form W-4

Employers Info Sheet

Direct Deposit

Tip Sheets for all forms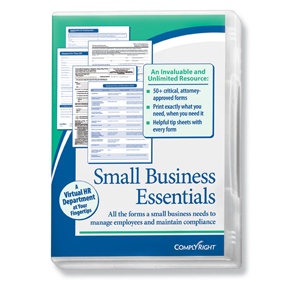 Small Business Essentials – Everything a small business needs to manage employees and maintain compliance.
50+ critical, attorney-approved forms

Tip Sheets for all forms
Don't forget you can also stay on top of excessive employee absences with a handy calendar-style card that creates a simple view of employee attendance!
Don't delay! Buy your updated business forms today, and stay in compliance.