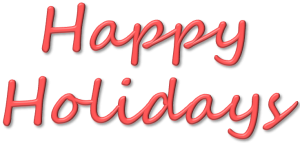 For many, the holidays conjure up images of snowmen and mittens, tinsel and trees, and hot cocoa by the fire. If you are an email marketer, the holidays may also conjure up visions of holiday email deployment schedules, Black Friday blowouts and Cyber Monday sales. Although ecommerce and big-box stores make up the vast majority of holiday marketing emails, small brick-and-mortar stores and other companies can still take advantage of the holiday season. To do so successfully requires advance planning and strategizing. Lucky for you, I am writing this blog article in September so you still have time to put the following five tips to use this year!
Holiday Email Marketing Tip #1: Establish Your Goal
Although some of you may be thinking, "DUH," taking a moment to consider how your business could best benefit from a holiday email campaign will only help you down the road.
For example, a local auto-body shop may decide their goal is to increase revenue during a typically slow time of the year. Therefore, they may want to send out a holiday campaign offering a discount on winterizing your vehicle. On the other hand, an investment advisor's end-of-year goal may be to thank his clients for their business and express excitement for the year ahead. His email campaign would then focus more on a "feel-good" thank-you email, instead of offering a discount on his services.
Having a clear vision of what you are trying to accomplish will allow you to focus your efforts strategically from the start.
Holiday Email Marketing Tip #2: Email Often
The number of marketing emails sent during the holidays is more than double the usual send volume. Some brands send almost triple their usual volume. That's why Tip #2 is to "email often."
I'm not suggesting you blast your email base with as many emails as Best Buy did in 2012 (where the average number of emails received by a subscriber was 39.) Many smaller businesses do not have an email base large enough or a product offering broad enough to support that. But, you can learn something important from the big boys when it comes to email holiday blasts: frequency is key.
With so many marketing emails being sent during the holiday season, you should plan on sending twice as many emails as you usually would just to increase your chances of getting noticed. You should also experiment with send times, and consider sending your most important offers twice in one day to increase your reach. Check out this article from Experian to learn more about the timing and frequency of holiday emails.
Holiday Email Marketing Tip #3: Offer a Great Deal
Now, of course, if your goal is to show customer appreciation (see Tip #1), you may not need to offer more than a sincere thank you. But, if you are looking to bring in revenue, you're going to need a great offer to differentiate yourself from the crowd.
Deep discounting, free gift with purchase, or extended sale hours are ways you can appeal to bargain-savvy consumers. Make sure you create a sense of urgency by setting a time limit as well. If your campaign is showing traction, you can always send out a deadline extension email!
Holiday Email Marketing Tip #4: Get to the Point
Shiny ornaments and snowmen aside, keep in mind that consumers are going to spend very little time looking for your offer within your email message. If you don't present your main message quickly and clearly, you will lose the opportunity. Remember, above the fold is not just a print term anymore … get to the point of your message before your subscriber has to scroll down.
Holiday Email Marketing Tip #5: Be Festive
Tip #5 is where you can have some fun! If you have been following along, your holiday emails will be on message, to the point and offer a fantastic discount … now, it's time to get a little festive with the design.
Be creative – don't be afraid to include some snowflakes or even just some fun fonts and colors. Do, however, keep in mind that customers and subscribers come in all shapes, sizes and creeds. Embrace all simply with the word "holiday."
Below is an example of a cheery, holiday-themed email design that we sent last year: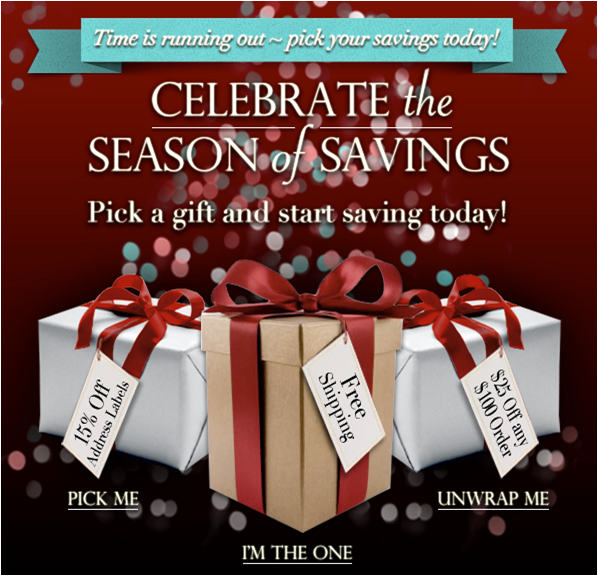 Find this article helpful? Well, you're welcome. Consider it your early Christmas present.
Do you have any holiday planning tips to share? Leave a comment below, leave us a message on Facebook or tweet us @123Print.