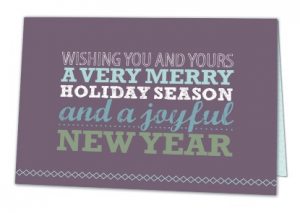 'Tis the season to send holiday greetings, and typically people include a short personal note on each card. But for some of us, it can be a difficult chore to complete — not knowing what to say or how to say it.
Well, procrastinate no more! Here are a few tips to get the creative juices flowing. You don't have to be witty, lengthy or super-creative; just voice your thoughts and keep in mind who the card is going to. Using these helpful tips below, you'll have those holiday cards out in no time at all!
Express Your Thanks
Let customers and business associates know you appreciate them by including your thanks in a holiday card. Everyone likes to be appreciated and know that their contributions are worthwhile. It's as simple as saying, "Thank you for your business", or "We appreciate working with you throughout the year." It will get your company noticed and nothing beats a personal note to let customers know that you value their business and association.
Look Ahead
Holiday cards not only send greetings of the season, but can also include your best wishes for the new year. Plus, not everyone celebrates Christmas. A more fitting note like "Best wishes for all success in the new year," sends a positive message. Or "Let's touch base in January on our (fill in the blank) project," gives you the opportunity to follow up and check-in.
Holiday Sentiments
Sometimes less is more. Simply wishing your customers and colleagues a great holiday can be all that's needed. Wording of, "Remembering you at the holidays," or "Have a wonderful holiday," can be genuine without being overly fussy — just the right touch.
Most importantly, make the effort to send a holiday card and touch base with customers and associates. It's a critical part of relationship building at a very affordable price. Handwritten, personal notes can be a rarity given today's variety of electronic communications. Sending an old-school holiday card is the perfect, positive way to keep your business top-of-mind with customers.
Think you're running out of time? Let's not kid ourselves, it is getting late. But last-minute holiday cards are still read and appreciated. Or, you can opt for a New Year's card to try something different.
So put on those holiday tunes, grab a cup of eggnog and a pen. You can fearlessly move forward with these great tips and painlessly get those holiday cards in the mail!
Leave a comment below and share your ideas for writing holiday cards. Or, drop us a note on Facebook or tweet us @123Print!