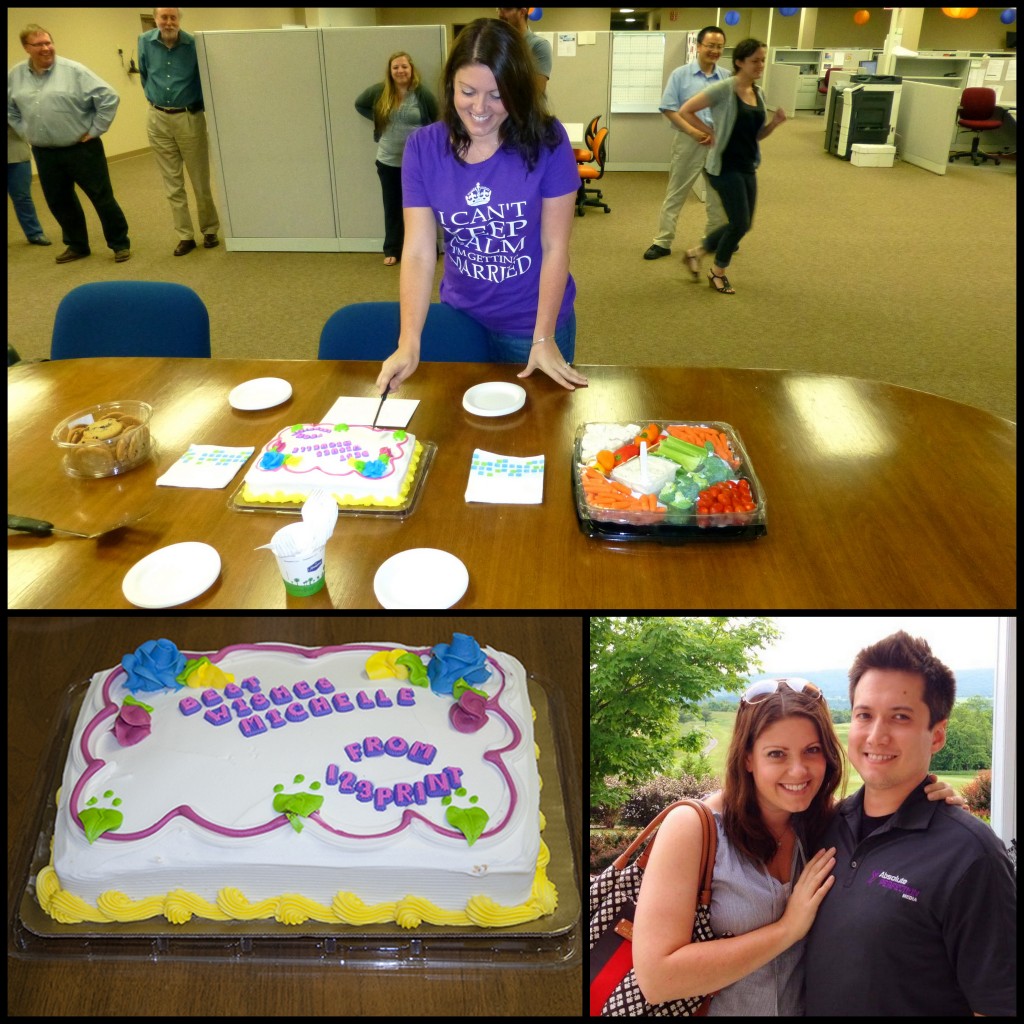 Congratulations and best wishes to Michelle from our marketing team, who is getting married this Saturday! I had the chance to catch up with Michelle earlier this week, and got her to share what she's learned from turning her unique wedding dreams from just an idea into a reality!
Erin: First off, can you tell us your engagement story?
Michelle: Lee (my fiancé) and I were on vacation in Siesta Key, Florida last June. The first morning we were there, we decided to take a walk before breakfast. So, we were walking along and Lee was videotaping as usual because he always videotapes, so I didn't even realize that he was planning anything! Suddenly, Lee called me over because he had found a big shell in the sand. When I walked over to look at it, he turned it over and there was a ring inside!
Erin: Now that you've planned your wedding, what kind of bride "persona" have you fallen into?
Michelle: Well, the kind of made up theme I have is "vintage-bohemian." That's the vibe I'm going for. I want everything to elegant, but free-spirited.
Erin: How have you balanced work with planning a wedding?
Michelle: I've done all of my planning on evenings and weekends. I've had to set aside certain days where I don't do any wedding planning and I just focus on other things like housework or the gym. Some days, all I did was wedding planning when I got home from work. It's been a lot of time, but it was all fun.
Erin: What kind of wedding stationery did you end up buying, and what tips do you have for other bride-to-be's?
Michelle: The printed materials were really important to me because I think it sets the tone for what your wedding is going to be — the design and just the overall feel. We made sure to have our Save the Dates out about 6-7 months before the wedding. (We have a lot of out of town guests). Also, I wanted to make sure I had my theme down starting with the Save the Date and that it set the tone for the rest of my wedding stationery. After the Save the Dates, we ordered our wedding invitations, RSVP cards and enclosure cards (so that people have directions to the venue). We also made sure our stationery had our wedding website on it, which really helped with the planning. Programs and place cards are also important, as well as menus if you're having a plated dinner and your guests didn't have a food choice. One other thing I did was used plain white business cards with a custom stamp to create my favor tags — that worked out really well! We ordered our wedding invitations, RSVP cards and enclosure cards about five months before the wedding. We sent out invitations a bit early to give us extra wiggle room in making sure everyone RSVP'd, which was very helpful and what I would recommend to others.
Erin: What is your favorite 123Print Wedding design?
Michelle: I really like our black and white designs. I also really like our new "Blue" collection — the "Bohmemian Bouquet" design is my favorite!
Erin: What's one piece of advice you would give to any bride-to-be?
Michelle: Envision what you really want out of your wedding and reach out to people to make it happen. Vendors are willing to help you achieve your goal — whether it's changing a custom design or changing a font color or combining two different things you really like — people are willing to help you, you just have to ask. I was able to change and combine certain things to create the perfect design, which really helped set the vintage-bohemian tone I wanted for my wedding. Also, try to remember it's just one day. You're planning for your marriage, not your wedding. 🙂
Join us in wishing Michelle and Lee all the best this Saturday!