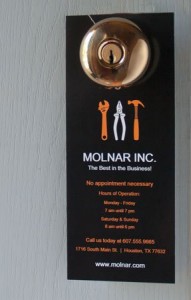 Did you know door hangers are a too-often overlooked effective marketing campaign? Creating and distributing custom door hangers can be a very powerful marketing tool for your business. Door hangers are very versatile and can be used in a multitude of different ways. However, no matter how you employ them, if they are not used with a proper strategy in place, it will all be for nothing.
Read on for four outside-the-box uses for door hangers and four ways to ensure your door hangers get the best response rate possible.
Think outside the box.
Send out an Invitation. Does your business have an event coming up? Perhaps you're even having a Grand Opening? Use your door hangers to spread the word and list out the who, what, where, when and why of your upcoming affair.
Promote a Sale. We all know that many businesses use the same holidays to promote sales. Memorial Day, Labor Day … even scoring some lucky savings on St. Patrick's Day! Make sure your brand sticks out from the pack by reinforcing your sale with an eye-catching door hanger.
Give out Coupons. Have your customer bring your door hanger back into the store to receive a percentage or dollar amount off their next purchase.
Announce a New Product. While keeping in line with your PR timeline for a new product launch, use door hangers as a way to announce the benefits of your new product or even deliver a sample of your new product with the door hanger attached!
Get better response rates.
Identify your target audience by creating a customer profile. Then, you can use demographic information to determine which area(s) your target audience resides in. These areas should be the first you focus on.
Even the prettiest of door hangers often get read and quickly discarded. Just as with any advertising material, keep the design simple. Make your colors bold and your headlines big. Deliver one simple, direct message and try to focus on keeping it to one message per door hanger campaign. Remember that a strong call to action that's even paired with a coupon will increase your odds of a better response rate. Most importantly, make sure your contact info is clearly conveyed.
Keep track of your responses. We can't say that enough. Without any sort of data, how will you know if your door hangers were a smashing success? Technology has allowed us the ability to track this sort of thing without any major headache — all you have to do is make sure the coupon code or URL you're pointing customers to is unique and isn't found on any other marketing material. Then, a tool such as Google Analytics can do the rest.
Pound the pavement. Turn your door-hanger-passing-out into a sales opportunity! Give your customers a face to remember. Have an elevator speech prepared that clearly explains who you are, what you do and why there is a need for your product/service. This way,  you'll never get tongue-tied if anyone snarkily asks, "Uhh … what do you do?"
Have you ever considered using door hangers as a marketing tool? How has it worked for you? What tips would you give business owners who are thinking of running a door hanger campaign for the first time?
We'd love to hear from you! Leave a comment below or connect with us on Facebook, Twitter or Google+.