The current Progresso Soup commercial with the sister who loves her sister, but not her bridesmaid dress, reminded us of the always-popular tacky wedding dress blog we posted a few years ago. It's still one of our most popular blogs, so we decided to have a guest blogger write Part Deux.
For the bride, picking out her wedding dress is one of the most important parts of planning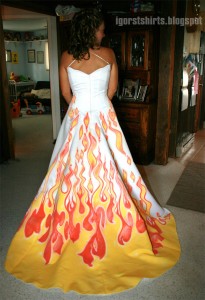 a wedding. So many dress choices are available for brides nowadays that this blog is written to assist brides (and their sisters) everywhere and help them narrow down the field.
As Part II of the tacky wedding dress blog, we continue to provide you the ultimate in taste — BAD taste. We do this in the hope that future brides will think twice before heading down the aisle in one of these, um, interesting trousseaus.
So let's put on our Fashion Police hats and get to work: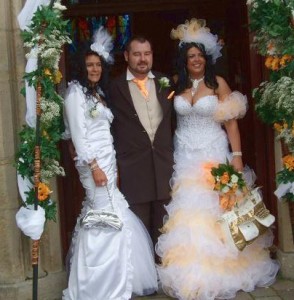 Frills and thrills this is NOT. Too much of everything going on here. And, excuse me, but can you tell me which gal is the bride? The mother of the bride isn't supposed to wear all white, right?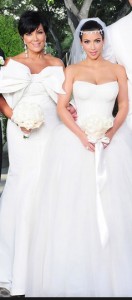 But, maybe it's a new trend?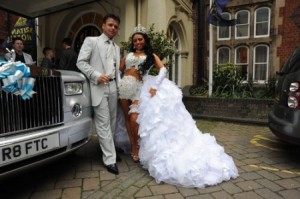 I call this example "Short on Style" due to the midriff top, fluffy shorts and gaudy garter. And seriously, who advised this bride that she needed a rhumba ruffle train to go with this crazy ensemble?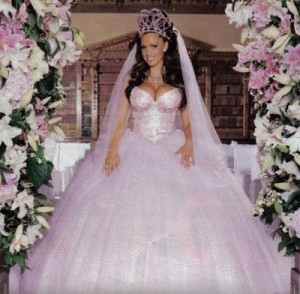 Many brides want to to feel like a queen or princess on their wedding day, but this just goes too far. British celebrity Katie Price is OTT with her blush pink ball gown and exaggerated headpiece. Apparently she wanted to set tongues wagging, but will this do that in a good way?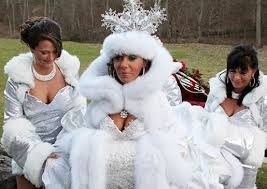 Ditto for the snow queen and her attendants. By the way, where's the snowy backdrop for this winter wedding?

Star Wars-inspired weddings somehow seem to stay popular with the cult following of the film series. Want to create your own movie-set wedding? Let's just say one word about that: DON'T!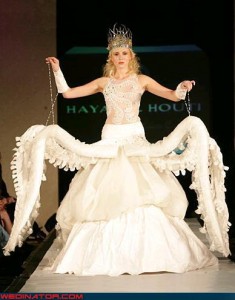 High fashion designers are famous for closing out their fashion shows with a unique designer wedding dress. This creation brings to mind Ursula from the Little Mermaid (or more recently, ABC's "Once Upon a Time." Just a few words of advice: The vocalist at the wedding better stay far, far away from this bride!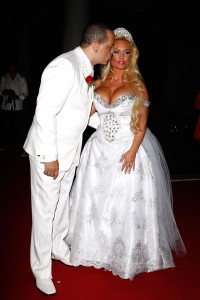 Word to the bride: Give the groom a warning! Be careful, because you'll put someone's eye out! Such a skimpy bodice on this dress and oh, so, so, sooooo much cleavage!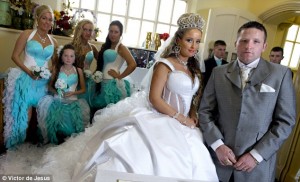 Eww – now I can't un-see it! It would appear this bride decided that "more is more" for herself and her attendants. It looks like she is trying to outdo the wedding party of "My Big Fat Greek Wedding" fame! Mission accomplished.
We sincerely hope that if you're a bride reading this column you'll take it with a (big) dash of salt. Here's wishing you good luck and all the best on finding the tasteful and stylish wedding dress of your dreams!
What about you? Have you seen or heard of a humorous wedding dress disaster that you'd like to share? Leave a comment below to share your most hilarious anecdotes. Or, drop us a note or a photo on Facebook or tweet us @123Print!