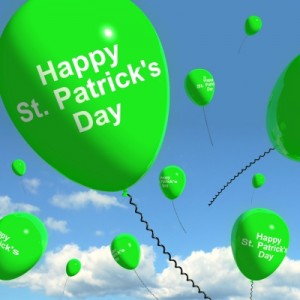 Are you planning on throwing a St. Patrick's Day party this year? The actual day it falls on is Monday, March 17, so you could consider doing a Sunday Funday the day before in honor of the Irish holiday if a Monday night doesn't work for you and your guests.
If you are planning a St. Patrick's Day party, the first thing you should know is what the whole holiday is about so that you can play the part of a wise host.
Who's this Saint Patrick guy?
Saint Patrick is the patron Saint of Ireland who brought hope to the country by establishing various churches and monasteries, and the 17th of March celebrates the heritage and culture of the Irish in general.
It's an Irish holiday — so why do we celebrate it in the U.S.?
The U.S. has a whole lot of folks from Irish decent — according to the United States Census Bureau, there are 34.5 million Americans who claimed Irish ancestry in 2010. That number just so happens to be about seven times larger than the population of Ireland itself!
Other than the celebration of heritage and a patron saint, people tend to participate in a St. Pat's Day event because it's just plain fun. You get to dress up in and decorate with bright green, and the Irish always know how to throw a great party. Another excuse to celebrate, right?
Here are some great St. Patrick's Day party items and ideas to make your bash a success:
1. Get it in order. Save yourself a party-planning headache later trying to get invitations out at the last minute and go ahead and order your St. Patrick's Day invitations now, a month in advance. Send them out about two weeks before your event so that guests will be sure to save the date.
2. Shamrock out! You know the saying: "the luck of the Irish"? Maybe the Irish are lucky because they covet their shamrocks (a.k.a. clover … four leaves or three, it doesn't matter to them). Feel free to use the lucky clovers in party décor all over your home or venue and party favors, including shamrock necklaces, banners, straws and more. You can even incorporate the symbol into your address labels on your invitation envelopes.
3. The meal deal. Irish food is known for its heartiness so save the diet for post-St. Patty's Day. Impress your guests by sourcing an Irish cookbook online or a hard copy, and making some killer eats, such as Irish stew, Shepherd's pie and more.
4. Green drinks. No matter which liquids you are serving at your St. Pat's party, adding a few drops of green dye will make the drinks extra festive. Do check in the mirror every once in a while to make sure that your teeth haven't turned the color of your lucky charms — if they have, it's an easy fix with a toothbrush and toothpaste.
5. Limerick junction. Complete your Irish event with a good round of limericks and/or Irish blessings — you can print some out in a folder in advance and pass it around to a few folks to read. As for the tunes on your stereo or Spotify, we'd recommend playing to the crowd's tastes versus going for the Irish theme in this one area. However, if it fits your group, you could put together a playlist featuring Irish bands, like The Cranberries (throwback to 90's pop-rock). Go on, dance that jig.
Are you planning a St. Patrick's Day party? What's the number one thing you're most looking forward to? Let us know in the comments below, or connect with us on Facebook, Twitter or Google+.
Photo Credit: FreeDigitalPhotos.net