Whether you just hired your first employee, you were fortunate enough to obtain that promotion, or have been managing a team for years — ask yourself, how are you planning on showing up tomorrow? The distinction between a boss and a leader may appear small, yet the impact you can make on your team is significant.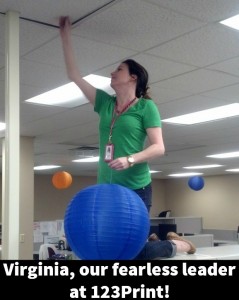 The worst misperceptions that I have seen with people in their transition to becoming the boss:
Assuming that because of your title, you know everything.
It's my way or the highway.
You can tell people what to do; delegating everything.
It's not my fault if someone on my team cannot <insert task, skill, decision>.
You can work less; you have people to do the work for you.
You have to be serious all the time.
Who wants to work for someone who has that type of attitude? No one.
As a leader, you are tasked to:
Motivate, inspire and believe in your team even when they lose faith.
Be approachable; create an open environment that your team will come to you with both celebrations and problems.
Encourage innovation — so what if it's a different approach than has been used in the past?
Embrace collaboration — the winning idea can come from anyone!
Develop and mentor your employees to become the best they can be.
Be willing to roll up your sleeves and get dirty. No challenge is 'too good' for you.
… many, many more … the list is endless!
Easier said than done, right? There are tons of books you can read about leadership, but none of them can tell you what type of leader you should become. They can give you some great ideas, but it really comes down to what style works best for you and hands-on experience. Whatever style you choose — remember you and your personality need to be a part of it!
Here at 123Print, I'm known for being an instigator for office tomfoolery. We all work so hard, that it's important that we have fun while doing it! Below are three recent examples:
April Fool's Day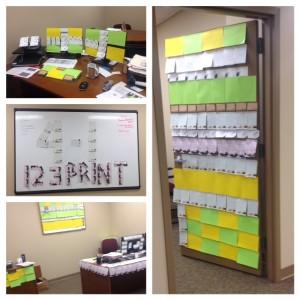 We covered our brand manager's office with Post-it® Notes — head to toe! You can see the other innocent pranks we played here at 123Print in our previous blog entry.
Toys for Pods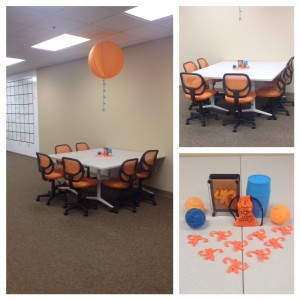 These toys are not only to spark creativity, but they also give me the opportunity to throw a ball or two at let's say 9AM on a random Tuesday around the office. (Mary, my HR manager, I promise that I'll continue to be careful!)
Five-Star Cindy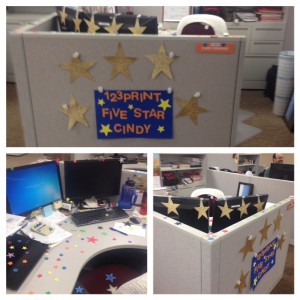 My operations manager, Cindy, has been working hard at transitioning to a new review vendor. She was so excited when we got our first review — that night I ran to Michael's and bought supplies that my team and I could use to decorate her desk while she was invited to a 'pretend' meeting. (Read more about our new reviews in another blog.)
Leadership takes focus, practice, awareness and diligence. It's not a light switch that can be turned on overnight. Like all of us, you'll make plenty of mistakes. It's okay.  It's all in how you recover. Just because you are the one in charge, do not be afraid to admit when you make an error. Your employees will appreciate your candor — and it might even be a good reminder that you are human and make mistakes, too! A mentor of mine once said, 'Leadership is a journey, not a destination.'
Please don't just take my word for it. Do some reading on the subject to help develop your own style. Here are four great books about leadership:
Drive: The Surprising Truth About What Motivates Us By: Daniel H. Pink
Who Moved My Cheese? By: Spencer Johnson, M.D.
The Habits of Highly Effective People Books By: Stephen R. Covey
Leaders Eat Last By: Simon Sinek
How do you integrate your personality into your leadership style? What advice would you give fellow leaders? What mistakes have you made? What type of leader do you aspire to be? Do you have any book recommendations? Please add a comment below, tweet us @123Print or leave a message on our Facebook page.