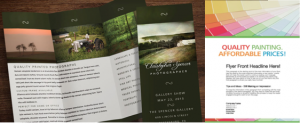 In the new online shopping world, two tried-and-true marketing techniques still have their place: brochures and flyers. Both are cost-effective marketing tools that can used for a variety of purposes:
• Educational piece
• Cross-sell opportunity inside a complementary product's packaging
• Handout at a tradeshow or local event
• Outdoor advertising tucked under windshields and other more creative ideas
• Follow-up piece to take prospects further into the sales cycle.
As opposed to reading information online, a printed marketing piece is easier to pick up and connect with emotionally. Plus, prospects can hang onto and even file a brochure or flyer that advertises something they might be interested in, but not ready to purchase yet. But how do you design an effective brochure or flyer to create small business success? Following are five tips to help you create a results-oriented marketing piece.
Get Their Attention — You have about three seconds to turn a looky-loo into a reader, so it's imperative to choose the right image and write a compelling headline. Decide what your one key message is, and communicate that. The cover of the brochure or front of a flyer should intrigue people to want to know more. If you try to communicate too many messages, you may end up communicating nothing. Make sure that your words and pictures tell the reader what's in it for them. Use a professional, high-resolution image that relates directly to your message. That way, if they can't take the time to read your entire brochure right away, they'll get your main point.
Show Some Restraint — In the same way you need to focus your message, you should keep the colors and font styles to a minimum. Select eye-catching colors that work well with your brand or logo colors. Try to stick with two main colors and maybe one or two accent colors. Similarly, on a basic brochure or flyer, two font styles are plenty. Use one for headlines and the other for your main copy. If you'll be using subheads, just use the same font as your body copy, but bold it or use one of your accent colors there. Marketing materials that feature too many colors and fonts can distract the reader from your main message and create a cluttered, unprofessional looking piece.
Make It Readable — If your target audience is under 30, feel free to reverse light-colored text out of a dark background and/or keep the font size small. But if you're targeting people who are starting to need at least reading glasses, reversed-out or text smaller than 12 points will likely be hard for them to read. Making people squint to read your message is not a good marketing tactic. A bright white paper stock will ensure the photos and text pop on the page. Choose a glossy 100 lb. weight or 80 lb. linen stock for a high-quality professional look. Consider using subheads, bold text and bulleted copy to help lead the reader's eye through your printed material.
Make It Worth Reading — Yes, people want to know the features of your product or service, but they also want to know the benefits. What's in it for them? Presumably you're offering your product or service because it meets a need, so tell people why they should buy from you. How do the features connect with true desires of your customers? These are the emotional reasons people buy. Weave these reasons into a vivid story that allows readers to picture themselves experiencing the benefits. Creating an emotional connection often leads to a purchase.
Ask for the Sale — This may sound obvious, but I've seen many a newspaper ad, brochure, flyer and TV commercial that doesn't ask the customer to make a purchase. Sometimes, they don't even remember to include contact information. Assuming a prospective customer knows how to contact you just makes it easier for them to go with another company. On a brochure, include your logo and contact information on the inside and back cover. On a flyer, include it on both the front and the back. Include brief, compelling copy that asks prospects to do something beneficial for themselves (e.g. "Use this coupon code to get 20% off sitewide!"). This makes them more likely to respond.
Now the ball's in your court. Design your brochure or flyer and upload it for free at 123Print.com. Then have it professionally printed and delivered right to your door! If you don't have the design skills or the budget to contract an advertising agency, reach out to our Design Services team. They can help you create an effective marketing brochure or flyer that's perfect for your brand. And if you're already using a 123Print business card or letterhead design, they can modify that template to be a brochure design.