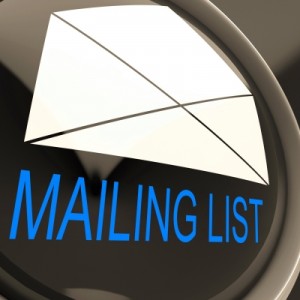 Let me be honest with you. If I was going to write a blog article about what was on my mind right now, it would be all about my wedding because I'm getting married in three days and thatisallIcanthinkabout.
However, I realize that you may not be nearly as interested in my wedding as I am so I will carry on and write about this month's email marketing blog topic which is … Email Acquisition Modal Windows. Yes, that IS quite a mouthful, isn't it?
Seriously though, if you have a website and are trying to increase the size of your email subscriber list, an email modal window could be just the ticket. Before the advent of the modal, the go-to answer was a separate pop-up window that appeared over the website. People found those super annoying because they had to deal with separate windows within their browser, which could be hard to manage. Plus, sometimes the pop-up window would actually fire behind the open website window, making the user miss it entirely. Then of course, people started to enable their pop-up blocker software which meant the sign-up box would be completely blocked. Andddd, that kind of misses the whole point.
So, good news. With the email modal, the user can never miss it because it is actually a layer within the webpage. It will appear overlayed on top of the existing webpage, and really look like a part of the website. Users can click out of them in different ways, or by signing up as a subscriber, which is of course the desired outcome. The modal solution is often called a lightbox because of the effect used to darken the background around it. There have been excellent results reported from this acquisition method — some even in the triple digits! Check out this blog from AWeber to hear more results.
There are many different options when choosing how to install an email acquisition modal/lightbox on your site. The best news is many of these options allow for a lot of customization. By customizing the user experience, you are giving your user a positive experience. For example, you can set the modal to only fire once per subscriber, or once every 30 days, or even only on certain pages. If you are an ecommerce site, you certainly don't want to distract the subscriber from the buying process so of course you'd never want your modal to fire on a check out page. Homepages and perhaps PPC landing pages are great places to start, along with any additional popular landing pages you may have within your site.
If you are looking for an interactive online solution to email acquisition, an email modal may be a great option for you. Here's some additional resources from Unbounce to learn more! Plus, check out our own modal which should be going live sometime soon on www.123print.com.
Do you currently use an email modal? Has it increased your email subscription rate or have you had negative feedback? Leave a comment, tweet us @123Print or write to us on Facebook and let us know!