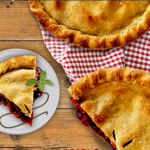 Rejoice! Today is National Pie Day!
You're probably saying to yourself, "Who knew?!" However, these fun, offbeat holidays can be a creative way to promote your brand, pique customers' curiosity, and increase business with special promotions.
These interesting holidays can be used to  build online promotions, in-store specials and social media conversations. By getting creative, you'll move from typical advertising and come up with something truly unique that will grab people's attention.
Take, for example, the 123Print promotion running today. We are celebrating National Pie Day (not to be confused with National Pi Day on March 13th) with a special offer — 18.849555% off everything on our site. When customers see this promotion in an email or log into our site, they will be curious to learn more about what's going on and why. (If you're interested in taking advantage of the offer, just use promo code SWEETDEAL in the shopping cart.)
(By the way, how did we come up with this clever discount? 6 [slices of pie] x Pi [3.1415926539] = 18.849555%.)
There are loads of these quirky days throughout the year. Find the ones that speak to your business or geographic location and join the fun with a sale, promotion or ad campaign.
For instance, take Walk the Dog Day coming up on February 22nd. If your business is a pet store, you could promote a customer dog walk event starting at your store at 4 p.m. that day. Or, if your business is a pet shelter, do a special dog adoption day. Better yet, tie the two together and cross promote both business: the pet store could organize the dog walk event to start at the shelter and give out coupons for dog accessories or pet food to participants.
Or consider something unconventional like a free seminar. One example would be a no-cost information session put on by an accounting or tax firm at the end of January. This timely seminar would provide tips to potential clients, and set the business up as a resource for doing taxes. The flow of information presented will lead attendees to see the firm's expertise and offer opportunities for customers to use the firm to help them file their yearly taxes, without the typical concerns of doing tax filing on their own.
If you do run a special event, particularly based on a unique holiday, be sure to contact your local newspaper, radio and TV to improve awareness and get the word out. These media are always looking for local stories to cover and yours may get free publicity as a news item or community service, depending on the type of promotion.
Don't forget about social media! There are numerous ways to use Facebook, Twitter and Instagram to promote. For the upcoming Tell A Fairy Tale Day on February 26th, a bookstore or library could invite patrons to post a photo of themselves with their favorite fairy tale book in-hand. A prize could be offered for the photo with the most likes or comments, to help create increased buzz on their social media accounts.
Many of these ideas are low-cost or no cost to the business owner. Plus, there are loads of resources on the Internet. Check out one of the following websites for a holiday event that works for your small business!
www.holidayinsights.com
www.daysoftheyear.com
www.holidayscalendar.com
all-funny.info
P.S. If you want to learn more about National Pie Day, click here.
Leave a comment below and share your creative marketing ideas for your small business. Or, drop us a note on Facebook or tweet us @123Print!